Text by Stefanie Tham
BeMuse Volume 7 Issue 4 – Oct – Dec 2014
Before the 1970s, no taxi driver would have dared to enter Toa Payoh after dark. Ng Giak Hai, born in 1949 and a lifelong resident of Toa Payoh, remembers the seedier, darker underbelly of the area in its early years when violence and crime were a part of daily life. "In those days," he says, "police cars did not dare to come into the villages. If they came in, sometimes people might use guns to shoot their tyres." His reference is to the secret society gangsters who used to prowl the area and possessively — often forcefully — mark their turf. So rampant was the lawlessness that Toa Payoh was called the 'Chicago of Singapore' - a moniker that lasted well into the 1970s when a new town was erected there. Such are the layers that make up Toa Payoh's history. When we think of Toa Payoh today, many of us conjure up a quiet, matured heartland residential district that was an icon for public housing in the 1970s. Indeed, when the town was first complete, Toa Payoh served as a showcase of Singapore's impressive and successful approach to public housing and urban redevelopment – an achievement lauded by several foreign dignitaries during their visits to the island.
The story of Toa Payoh, however, runs deeper than this mile one in the making of modern Singapore. A former settling ground for plantation farmers, village dwellers, secret societies, shrines and temples, the history of Toa Payoh is a rich tapestry of stories and voices, set against the backdrop of our country's nation-building years.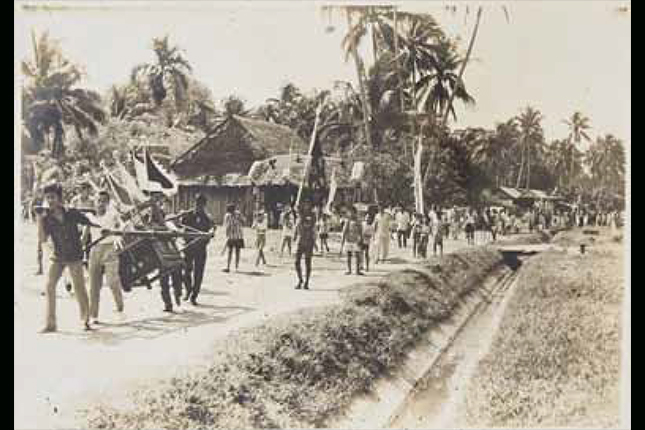 A village procession across what is today's Toa Payoh Central in the 1950s.
Where it begins
Back in the 19th century, the area where Toa Payoh stands today was a natural swampland. A hint of this can be found in the etymology of the name "Toa Payoh", which literally means "big swamp". Swamps were a common sight in Singapore in the past, until plantation owners started settling inland and cleared the area. One of the early pioneers who used to own land in Toa Payoh was Teochew merchant and "king of pepper and gambier" Seah Eu Chin. Seah owned plantations along Thomson Road, and his property at Toa Payoh included a large bungalow named E-Choon.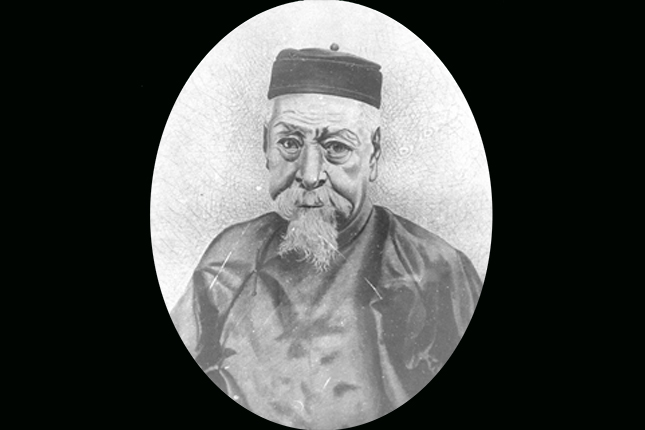 A portrait of Seah Eu Chin.
Courtesy of National Archives of Singapore.
Early villagers who settled in the area were largely Chinese, although there were a handful of Malays living near Boon Teck Road (in present-day Balestier) and Kampong Pasiran in the Novena area. There was also a small community of Indians who lived in Potong Pasir, where they herded cattle and sold them at the markets in Toa Payoh.
At that time, villagers belonged to closely-knit dialect-based communities that were centred around their respective temples. The story of Kampong Puay Teng Keng, one of the former kampungs in Toa Payoh, exemplifies this. Consisting of mostly Hokkiens, the village was a self-sufficient community hub that provided the necessary services for its residents, such as help for funerals, religious processions, wayangs (street operas), a large market, early education and even a firefighting team.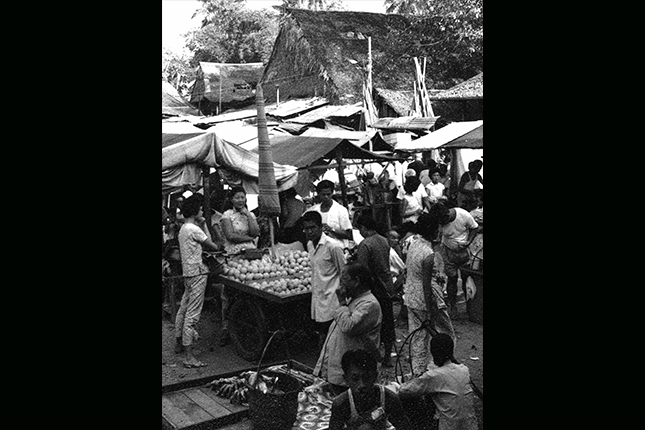 A village market in the 1950s.
Courtesy of Toa Payoh Central Community.
To keep a closer watch on the attap houses that were prone to fires, the Puay Teng Keng villagers had a fire post erected. The team was also dispatched to help in the 1961 Bukit Ho Swee fires. Ng Giak Hai reflects on the strong kampung kinship: "Everyone would take care of one another. During Chinese New Year, [if] you had nothing to eat, you go to your neighbour's house and he would serve you so drinks, give you cookies to eat... This August we have a [temple] event, and all our kampung people will come back. Some of them are now Christians but they will ill come, they come to visit old friends, come here to reminisce."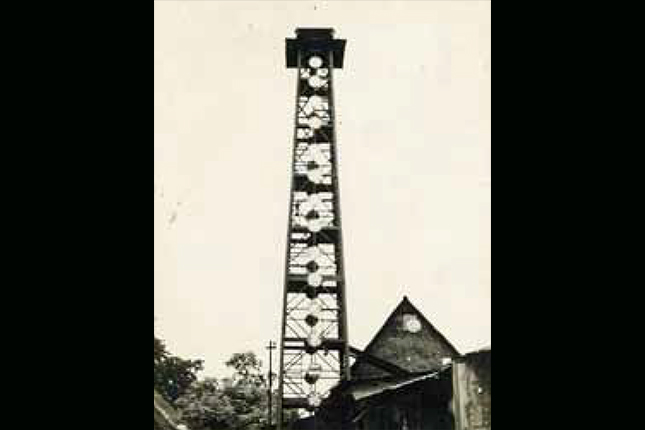 The 21m-high watchtower that was part of the village fire post at Puay Teng Keng in the early 1960s.
Courtesy of Chee Tian Keng Temple.
But underneath this neighbourly warmth, Toa Payoh had a shadier side. Located at the periphery of the downtown area, villages like Toa Payoh were often unregulated, allowing secret societies to thrive. Residents remember gangs in Toa Payoh making moonshine - illegally distilled liquor - that had very high alcohol content and would make stomachs turn and swell. Gang members would also lurk around the town seeking protection money from shops, which sometimes led to violent quarrels. Former grassroots leader Wong Shou Jui recollects how fierce clashes would occur opposite his house: "At today's Kim Keat Avenue market, there was a big plot of grass. Many secret societies had their fights there, and we could see from our window that the fights were very intense. [The gangs] would agree on a time and place to battle it out, [and they had] fierce battles, so everyone shut their doors to let them fight."
Change and Resettlement
When plans to create a new satellite town in Toa Payoh were announced in 1961 by the Housing and Development Board (HDB), the idea of staying in high-rise concrete flats was still an alien one. High expectations were laid upon the town – Toa Payoh's HDB estate was one way the ruling authority hoped to alleviate the housing shortage of the post-war period.
For the villagers, however, this change incited great fear. Most of them lived off their small plots of land for a living, and this transition would lead to them losing their source of livelihood. Most of them were also doubtful that they could afford the higher rents of the new flats. Others disagreed with the compensation rates offered by the government. It was unsurprising, then, that efforts to clear the kampungs met with strong resistance from the villagers. As Mr Ng recalls: "At that time the move really would [make us] cry. Everyone was very scared... when they wanted to relocate us, everyone thought, 'we're in trouble this time'."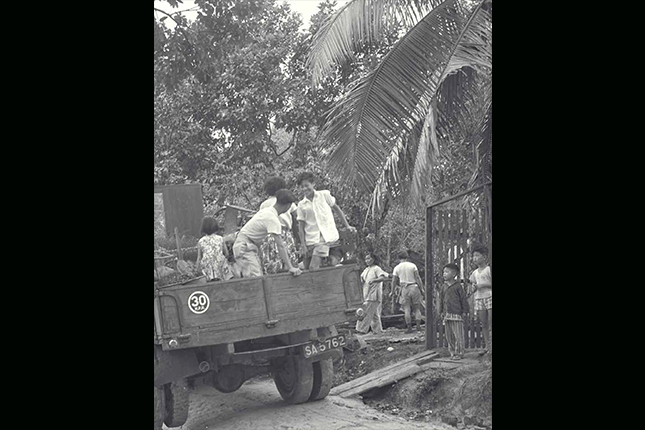 Kampung dwellers moving out of their attap houses in Toa Payoh, 1966.
Image reprinted with permission from The Straits Times (c) Singapore Press Holdings.
These concerns were only appeased after extensive negotiation and compromise, particularly regarding the inclusion of monetary compensation and lower rental rates for affected villagers.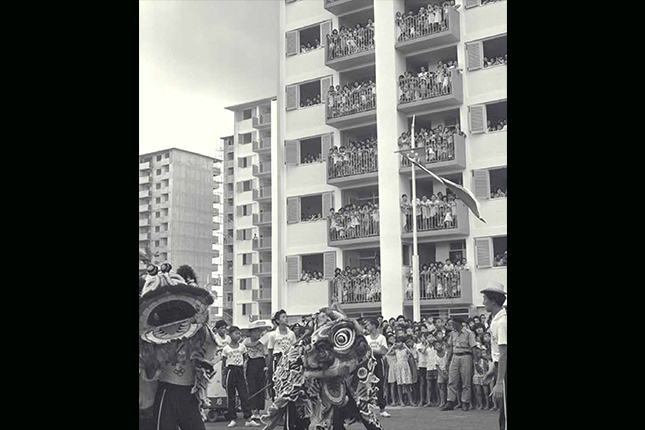 A lion dance performance at a new HDB estate in Toa Payoh, 1966.
Image reprinted with permission from The Straits Times (c) Singapore Press Holdings.
Nonetheless, those who underwent this transition had to adjust to an entirely new way of living, which for residents like Tan Kee Seng (b. 1926), meant the beginning of better things to come: "With the public housing, the living environment was better compared to my kampung days at Ah Hood Road. I didn't have many difficulties adjusting to life in the flats."
A Great National Experiment
Today, modern high-rise flats are ubiquitous. Over 80 per cent of Singapore's population lives in HDB flats. Toa Payoh may not appear very different from most modern heartlands we see today, but, as the second satellite town built entirely by the HDB, Toa Payoh represented a new frontier in public housing. The town had successfully housed a population of 250,000 people, four times the number indicated in the plans drawn up by the original Singapore Improvement Trust (a pre-cursor to HDB). A solution had been found to Singapore's housing problem.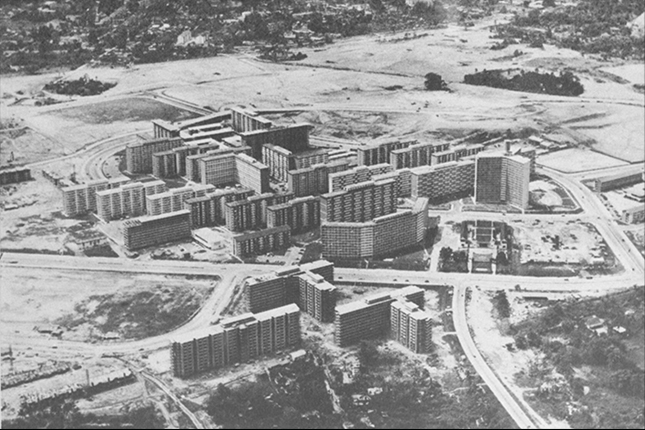 An aerial view of Toa Payoh, 1967.
Ministry of Culture Collection, image courtesy of National Archives of Singapore.
Toa Payoh was also the site of many unprecedented developments: the first Mass Rapid Transit (MRT) station, the first cooperative supermarket in Singapore (the former NTUC Wel- come), the first neighbourhood police post system and the first Residents' Association, to name a few. Because of its impressive and modern amenities, Toa Payoh was selected to proudly play host to 1,500 athletes competing in the sixth Southeast Asian Peninsular Games in 1973.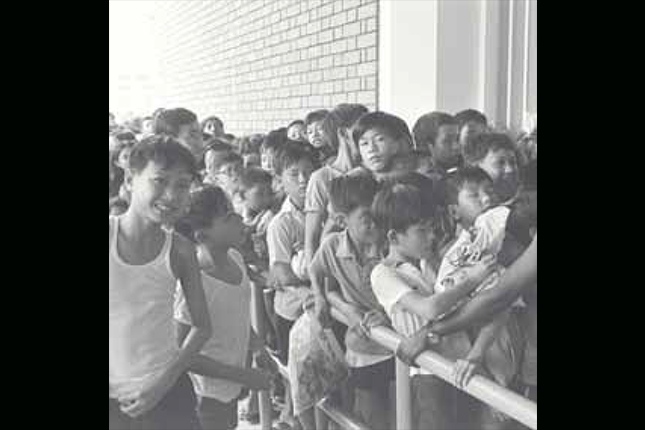 A long queue to enter the Toa Payoh Swimming Complex, which was one of the venues for the 1973 SEAP Games.
Image reprinted with permission from The Straits Times (c) Singapore Press Holdings.
For the kampung folk, Toa Payoh was an also a test-bed; many were unsure whether they could fit into the new town. Former communities had to adapt to a new lifestyle and newcomers from other parts of Singapore. Given the strong sense of neighbourliness in the kampungs, some wondered whether they could experience the same kind of closeness they enjoyed previously. Nevertheless, while interaction between neighbours was understandably more muted in the town's nascent days, new bonds formed over time. As Razali Ajmain (b. 1956) shared, "After a while, I made friends, I went to the coffee shops and mixed with all races and I got used to life in the housing estate. With friends, it began to feel more like life in the kampung."
The community and religious institutions in Toa Payoh today likewise reflect a strong gotong-royong spirit that continues to prevail. A mark of this can be seen in the origins of Masjid Muhajirin. Located along Braddell Road, it was the first mosque to be built with help from the Mosque Building Fund (MBF) and community efforts, which raised funds through food sales. The mosque's roots can be traced back to the Muslim Benevolent Society in Toa Payoh in the late 1960s. The society offered assistance for needy families, provided religious services for the 1,200 Muslim families in Toa Payoh, and also reached out to non-Muslims during events such as Hari Raya.
Other religious institutions such as the Church of the Risen Christ served the Toa Payoh community at large as well. The church organised childcare services and free tuition classes run by volunteer teachers. A small library was also opened for children before the Toa Payoh Public Library was constructed. For those who grew up in Toa Payoh, the town holds a significant place in their memories.
Heritage blogger Jerome Lim (b. 1964) spent a few years of his childhood living in Block 53 of Lorong 5.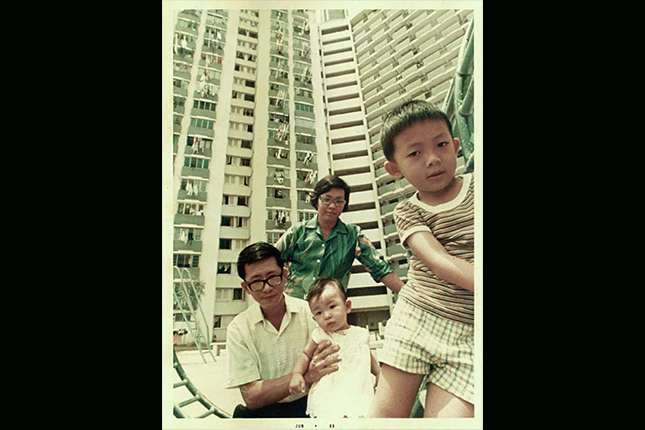 A young Jerome and his family in front of their residence at Block 53, 1969.
Courtesy of Jerome Lim.
Even today, he still recalls his first friend in the neighbourhood, a young boy from a Sikh family with whom he "play[ed] games like police and thieves, cowboys and Indians... along the common corridors of my block."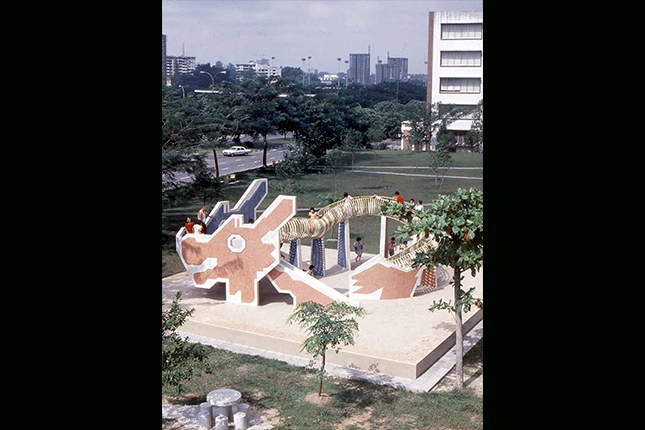 The dragon playground, 1989s.
Courtesy of Housing and Development Board.
Others grew up with Toa Payoh, witnessing its coming of age. K. Malathy (b. 1961) reflects on this: "My family moved to Toa Payoh in 1972. I was a child then, and Toa Payoh was young, like me. The town was raw, awkward, and its blocks of flats still held a new, white-washed look... But since then, Toa Payoh has changed. I have watched Toa Payoh grow up with me and mature into a respectable, comfortable town."
Growing Memories
Toa Payoh Town Park (on the right) and Toa Payoh Bus Interchange (on the left), 2014.
Image courtesy of National Heritage Board.
Indeed, Toa Payoh is constantly evolving and its story continues to develop. These are but a sample of the numerous memories of present and former residents who have come forward to are their recollections of life in Toa Payoh. Their stories are part of the Toa Payoh Heritage Trail launched by the National Heritage Board (NHB) on 17 August 2014. A product of both the NHB and the Toa Payoh community, the trail celebrates the role that Toa Payoh plays in our collective social history and the heritage sites that have become an indelible part of the area's identity today.
There are many avenues for us to celebrate and discover more about the heritage of Singapore. The story of Toa Payoh is a microcosm of the wider shifts in the Singapore Story. While Toa Payoh's sites of heritage are unique to the area, the memories of its residents capture the socio-historical changes that have become a shared legacy among Singaporeans who lived through the country's path to maturity in the early decades of independence.
Learn more about the Toa Payoh Heritage Trail.
Stefanie Tham is an Assistant Manager, Community Institutions & Outreach with the National Heritage Board