TL;DR
Just a few decades ago in Singapore, the HDB playground used to be the "headquarters" for the children in the neighbourhood. Coming home from school and still in their uniforms, they would play Catch, or "Police and Thief", and challenge one another at "Zero Point" (a skipping rope made from weaving rubber bands together). Our sandy pits and simple see-saws have now given way to rubber mats and themed plastic play areas. Here is a story that transcends generations and brings out the kid in all of us.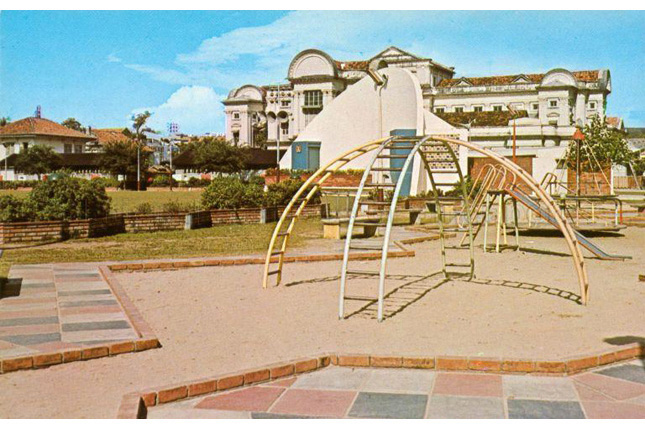 This playground and open-air theatre was opened in 1960 at Hong Lim Park Green. (c1960s. Image from National Archives of Singapore)
Dragons from our history
For the younger generations in the '70s and '80s, the iconic dragon playground was an almost daily encounter for Toa Payoh residents. Thanks to a major facelift planned by the Housing Development Board (HDB), which replaced Singapore Improvement Trust's (SIT) as the island's public housing authority, what used to be basic swings and rickety merry-go-rounds were replaced with safer, more interactive playgrounds made of concrete. For every 600–800 HDB homes, there was to be one playground for the children of the estate.
In the 1970s, Mr Khor Ean Ghee was the in-house interior designer assigned to designing these playgrounds. Despite having no training in playground design, he took inspiration from our cultural heritage and created a series of landmarks that would forever remain etched in the childhood memories of generations of Singaporeans.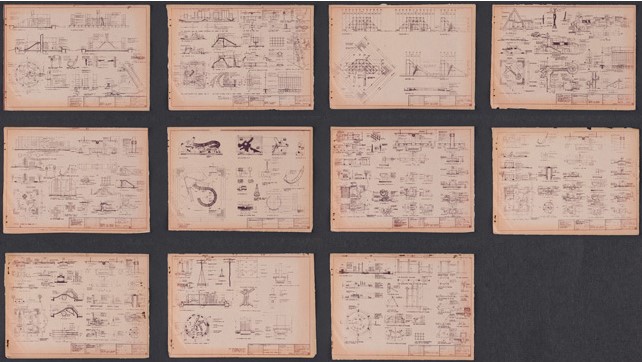 The prototype designs of our iconic playgrounds made in the '70s by Mr Khor Ean Ghee. These are his personal copies. (c1970–1979. Image from National Museum of Singapore)
The dragon playgrounds were amongst the most eye-catching of these designs. Standing atop a large sand pit, kids could climb up the dragon's tail and walk along its long body in 'mid-air', before descending to the ground again through a slide at its head.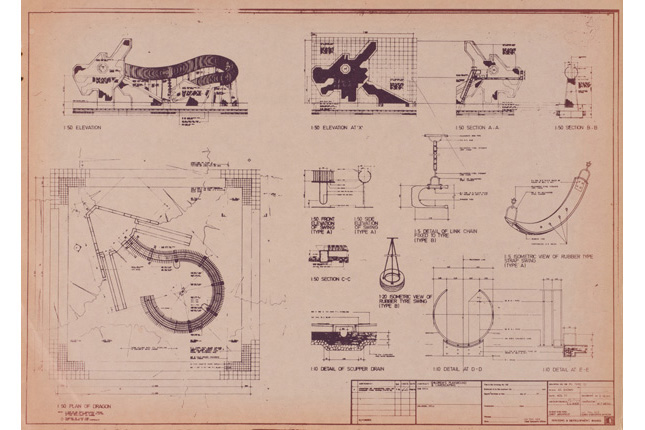 A prototype drawing of the dragon playground. The dragon was chosen as a symbol to convey a stronger Asian identity. (c1970–1979. Image from National Museum of Singapore)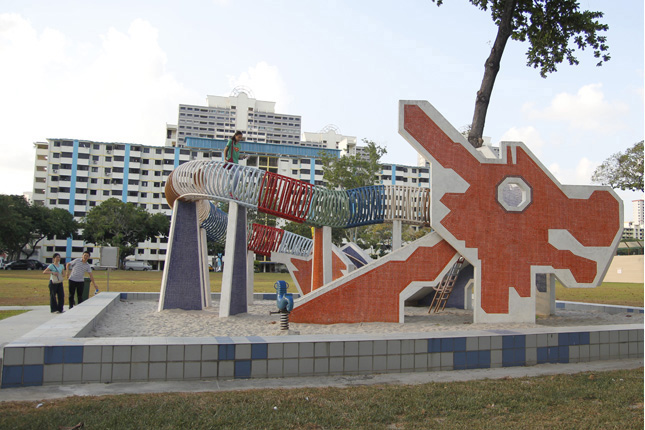 The dragon playground at 28 Lorong 6 Toa Payoh. These dragons typically had heads decorated with terrazzo tiles, a body made with steel rails, with attached ropes and tyre swings. (c1970–1979. Image from National Museum of Singapore)
The fruits of the estate
Some playgrounds also paid tribute to the estate's past by featuring fruit designs. The fruit playgrounds at Choa Chu Kang and Tampines served as fond reminders to the area's former fruit farms. These included playgrounds with local fruits such as the mangosteen, watermelon, and even the pineapple, as their themes. Other playgrounds also featured animals such as doves and pelicans, and geometric shapes.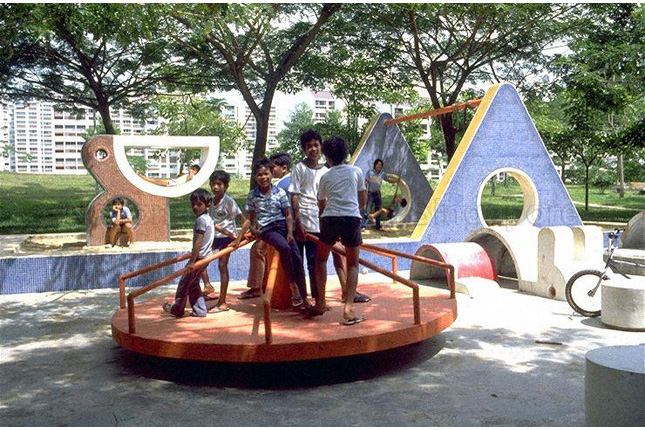 A pelican playground at Bedok Reservoir Road. (c1984. Image from National Archives of Singapore)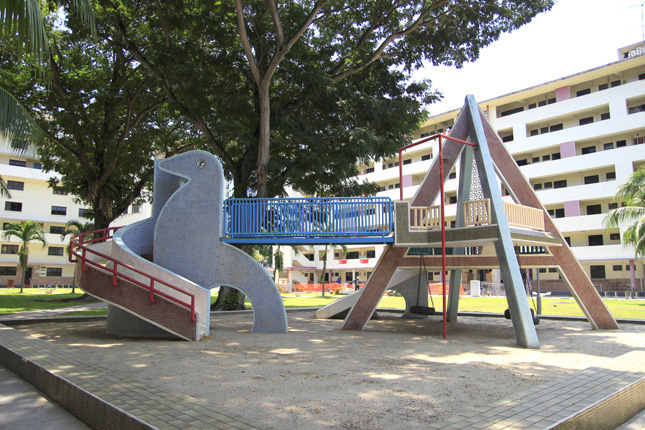 This dove playground at Block 10 Dakota Crescent still retains its original sand pit. (c. 2015. Image from ghettosingapore.com)
The evolution
Most of Mr Khor's designs became a big part of many kids' lives in the 1970s and 1980s. In the 1980s, our local creatives also introduced playgrounds centred on themes of dinosaurs, fairytales, and nursery rhymes. And by the '90s, HDB outsourced its playground designs to architectural firms. Sand pits and concrete structures were replaced by plastic modular playgrounds, which were considered safer and more hygienic.
In recent years, fitness areas were also built beside these playgrounds to encourage a stronger sense of multi-generation family bonding.
Today, there are fewer than 20 of our past playgrounds left, but our younger generations get to play and learn in even more interactive and stimulating playgrounds. Sandy, scraped knees are now a thing of the past as the new rubber-mat flooring lets our kids take a tumble and immediately get up to race their friends again. What would Singapore's playgrounds look like in the next few decades? We'll just have to have a peek downstairs once in a while from our balconies to find out.