Kway Guan Huat Joo Chiat Popiah has been based in Joo Chiat for more than eight decades, having been started by third-generation owner Michael Ker's grandfather as a pushcart hawker business. His grandfather, an immigrant from Anxi in China's Fujian province, married a Peranakan woman from Malacca and turned out popiah in the Nyonya style, with its characteristic filing including stewed turnips (bangkwang), prawns and chilli.
Watch: Stewards of Intangible Cultural Heritage Award - Michael Ker
Heritage food establishments like Kway Guan Huat Joo Chiat Popiah that have stood the test of time are often asked about their secret recipes. Given that these venerable formulas bestowed through the generations are often the key to drawing and retaining a loyal clientele, heirloom recipes and methods are not shared on a whim.
Ker, however, will tell you his family's recipe without skipping a beat. "The secret recipe is experience – when your hand touches the dough, you will instinctively know whether you need to add more water, salt or oil", he says.

Perfecting the craft of hand-made popiah skins
Popiah skins have been hand-made at Kway Guan Huat since 1938, and it is this dedication to traditional methods that have taken the shop through decades of changing tastes and pressures for more efficient production via automation.
Kway Guan Huat's emphasis on the hand-made process renders the popiah skins more chewy, springy and translucent than machine-made ones, and hand-made skins are favoured by customers despite lasting only a day due to their lack of preservative agents.
The experience that Ker speaks of is an integral element in producing hand-made popiah skins. At Kway Guan Huat, this process involves the dough recipe, a pair of cast-iron hotplates forged in the Jalan Sultan area more than 50 years ago, and the techniques of hand-working the dough. Only by putting in the thousands of hours into mixing, twisting and swirling the dough can one gain the necessary experience to work the deceptively simple mixture of flour, water, salt, and oil – one which Ker has kept alive as a third-generation practitioner and owner.
The dough is then left to ferment for a couple of hours, before being beaten with a wooden paddle. Once air bubbles form, the dough is ready for cooking. Flipping a 400g handful of dough onto the hotplates, Ker is heedless of the 150-degree Celsius heat from the plates.
The technique of flipping the dough onto the hotplates was learnt through countless episodes of getting burnt as he studied at the hands of his father and uncles since the age of 13. During festive occasions, when demand for popiah skins is high, everyone at Kway Guan Huat would make skins for more than 12 hours straight.
Keeping traditional food heritage alive
Ker says of the popiah-making process: "I wake up early in the morning and I do the popiah skins, making hundreds to thousands of pieces every day. This is like practising yoga or tai chi every day; if I don't do it, I feel a bit uneasy." It is mastery of a food culture born of dedicated practice; Ker took several years to truly become an expert in handling the skins.
This commitment to a life of craft was not what Ker's father intended for him. "When I was a young boy, my father never wanted me to take over the family business. He was always pushing me to study hard, get a job outside in an air-conditioned room", he says. Instead, Ker kept polishing his techniques, eventually left a career as a pharmacist, and took over the business in 2013.
"I decided to carry on our family tradition of making popiah because it goes back three generations. It would been a pity if I didn't do it and the heritage of this food vanished. From an air-conditioned office, I moved to a hot, sweaty environment with long hours. It's tiring, it's hard work, but it's something I feel is precious", he adds.
Even as Kway Guan Huat is known for its traditional methods and traditional tastes, Ker has innovated to sustain the business, including introducing pandan-flavoured popiah skins and roast duck fillings. Recalling the communal and family-centric nature of popiah meals in years past, the shop offers packages for convenient group dining, and has also established an online presence.
Keeping popiah culture alive is another focus for Ker. He has been conducting education workshops and demonstrations for tourists, local groups, and students, which delve into the cultural history of popiah and are paired with tastings. The shop will also be installing a heritage gallery, where Ker can "explain the origins of this heritage food, the culture, the techniques and the craft of making [popiah]", he says.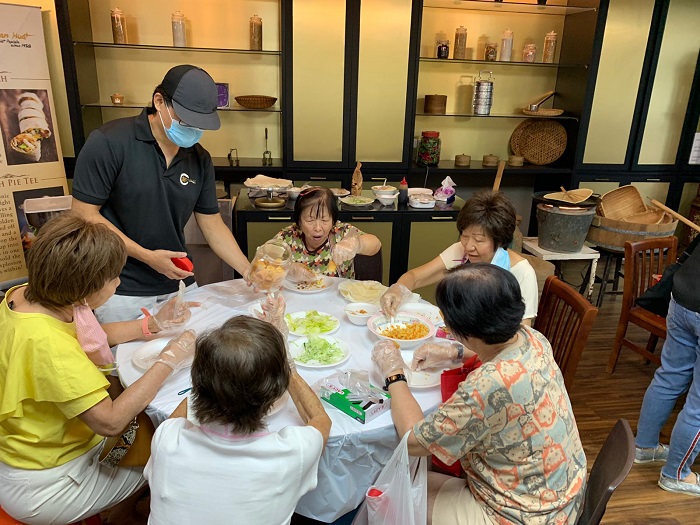 Mr Ker guiding participants of his popiah-making workshops, where he shares about the cultural heritage of popiah as well as the techniques of making popiah, 2020. Courtesy of Kway Guan Huat Joo Chiat Popiah.
In this vein, Ker collaborated with the Singapore Tourism Board and other corporations to showcase the popiah craft at food festivals worldwide, including in New York, Copenhagen and Dubai.
Ker continues to transmit the popiah craft by passing on time-honoured techniques to younger members of the family. "I hope I can spur the younger generations to take the unconventional path", he says, adding: "But it must come from them, you can't force it. It's not an easy thing to do."