TL;DR
The Orang Seletar are seafaring nomads who once roamed the rivers and wetlands of both Singapore's northern shore and present-day Malaysia's southern coastline. Like many indigenous communities around the world, the Orang Seletar possess a symbiotic relationship with the natural environment.
+65 Volume 2 – 2022
Text by Ilya Katrinnada
Read the full +65 Vol. 2
The late morning currents are in my favour as I steer my paddleboard towards Sungei Simpang, a river on Singapore's northern coast. I had started out from the sandy beaches of Sembawang Park, and Sungei Simpang offers a drastically different scenery. Its banks are lined by mangrove swamps with a biologically diverse ecosystem. A heron, a kingfisher, two wild dogs, several jellyfish, and countless crabs are some of the animals I encounter. Born and raised in post-independence Singapore's concrete jungle, I am unaccustomed to the sights, sounds and smells that make up this lush and verdant intertidal zone. It is at this point that I muse: how I wish that I possess the wisdom of the Orang Seletar, who once inhabited these waters.
Sungei Simpang with wooden house in background, 1981. Lee Kip Lin Collection, courtesy of the National Library Board, Singapore.
For centuries, the Orang Seletar have called the Tebrau Strait—the thin maritime boundary that separates mainland Singapore and Peninsular Malaysia—their home.1 As seafaring nomads, they once roamed the rivers and wetlands of both Singapore's northern shore and present-day Malaysia's southern coastline. Indeed, they are one of several indigenous Orang Laut (meaning 'sea people' in Malay) communities which trace their roots to Singapore's pre-colonial lands and waters, with each possessing a distinct culture and territorial occupancy. These communities include the Orang Gelam, who lived along the Singapore River, and the Orang Biduanda Kallang at the Kallang River. When Stamford Raffles landed in Singapore in 1819, he noted that the Orang Laut made up the bulk of the island's 1,000 inhabitants. This included 200 Orang Seletar.2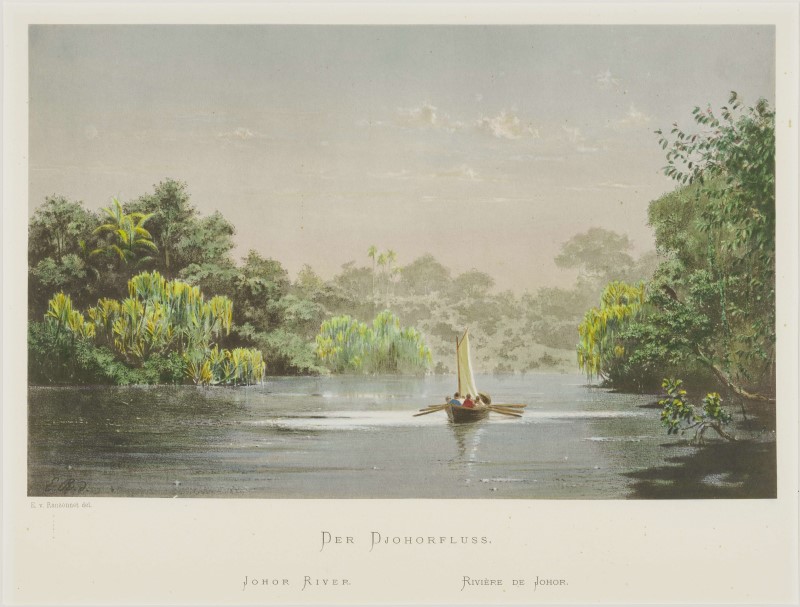 Eugen von Ransonnet,Straits of Johor and Singapore, 1869. Collection of the National Museum of Singapore, National Heritage Board.
Like many indigenous communities around the world, the Orang Seletar possess a symbiotic relationship with the natural environment. For generations, they lived in mangrove forests and riverine zones, allowing them to acquire a robust system of knowledge about wild animals and plants, which provided them with crucial resources for their daily needs. They foraged for food such as tubers and wild yams, used handmade spears to catch fish, and hunted for wild pigs with the help of dogs.3 In the mangrove estuaries, they sourced for wood from tall timber-producing trees such as meranti and seraya to build their pau kajang, or houseboats. Designed with thatched roofs made of mengkuang (pandan) leaves, these boats were mobile homes in which Orang Seletar slept, cooked, played, and travelled.4 They were also experts in medicinal plants.
Pandanus, 1803-1818. William Farquhar Collection of Natural History Drawings. Gift of Mr G. K. Goh. Collection of the National Museum of Singapore, National Heritage Board.
A group of Orang Seletar aboard their pau kajang at Seletar Island, 1950s. The man in the middle, Pak Ketuak Buruk, was the group's headman, whom they called Pak Ketuak. Dr Ivan Polunin Collection, courtesy of the National Archives of Singapore.
Between 2018 and 2019, I interviewed several members of the Orang Seletar community currently living in Johor Bahru as part of an oral history project. Letih, a community elder, told me that they still apply ground nyirih (a species of mangrove in the mahogany family) to the umbilical cord of newborns as a natural antiseptic, allowing the stump to fall off within three days.5 Interestingly, despite having been practised by generations of Orang Seletar, this method is not viewed favourably by hospitals today. Letih said, "Nurse[s] [will] get angry. When we see the nurse coming, we will wash off the nyirih. We will clean it up. When the nurse walks away, we will apply it again [on the stump]."6 This anecdote gives us food for thought about how indigenous knowledge is perceived in present-day medical settings.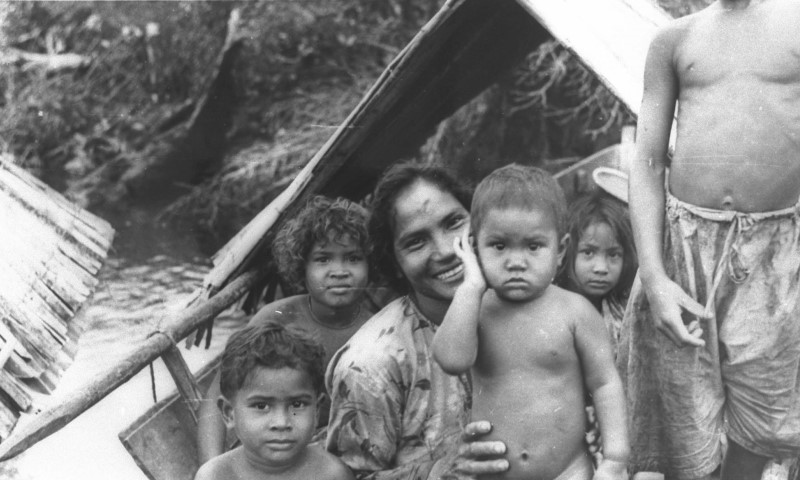 Mah (centre), the wife of Pak Ketuak Buruk, with her children on a pau kajang at Seletar Island, 1950s. The boy seated on her right is now the headman of one of the Orang Seletar villages in Johor Bahru. Dr Ivan Polunin Collection, courtesy of the National Archives of Singapore.
While the Orang Seletar continue to depend on the environment for their survival, they remain conscious about not exploiting it. From my interactions with them, I have observed that their reverential attitude towards nature stems partly from the belief that spirits inhabit the natural world. To appease these unseen beings, they take precautions against extracting more resources than needed, opting to live within nature's bounds. For instance, even today, they will let go of animals caught if they do not intend to eat them. During another interview, Jefree, who is an Orang Seletar fisherman, tour guide, and photographer, said, "A fisherman will not kill a dolphin using his spear if he does not want to eat it. He will let it go. Following the Orang Seletar tradition, he will let go of the dolphin so that it will bless him [with bountiful catches]."7 Their way of living is thus a truly sustainable one, in which nature, rather than human beings, dictates everyday rhythms of growth and decline. Nature, here, is not a force to be wrestled with, but a precarious equilibrium of which man is but one part.8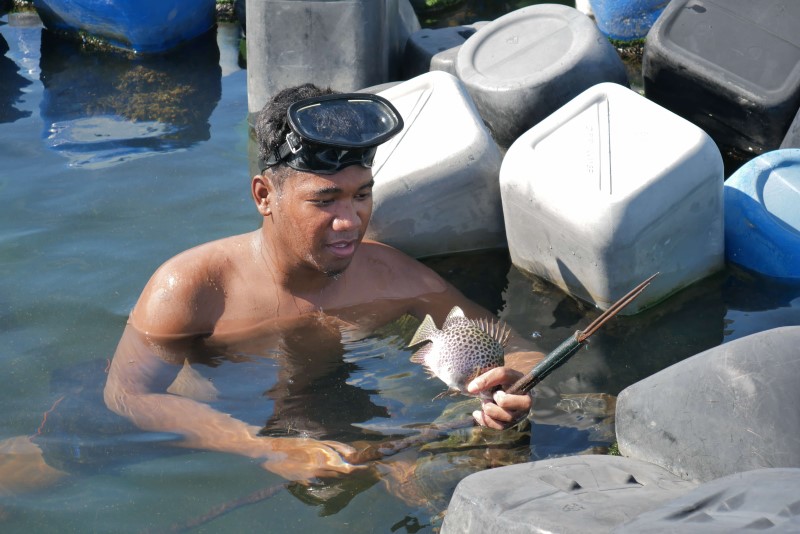 An Orang Seletar from a village in Johor holding onto a fish he had just caught using a spear, 2019. Courtesy of Jefree Bin Salim.
Alongside many other communities whose lives were transformed by modern conceptions of statehood, the Orang Seletar found their nomadic lifestyle drastically altered in the 20th century. A major turning point was the separation of Singapore from Malaysia in 1965. With the establishment of borders between the two nations, the Orang Seletar were eventually no longer able to travel freely on their pau kajang across the Tebrau Strait. Interestingly, Orang Seletar who became Malaysian citizens were still given permission to cross the Strait until 1987.9 However, all access ceased after the arrest of an Orang Seletar who was caught allegedly smuggling illegal goods.10Many Orang Seletar who still inhabit coastal villages in Johor now make a living by fishing and rearing mussels, though their catches have been dwindling in recent years due to environmental degradation. Their fibre boats provide them easy access to what is left of Johor's mangrove swamps, which remain untouched by land reclamation and urban development for now.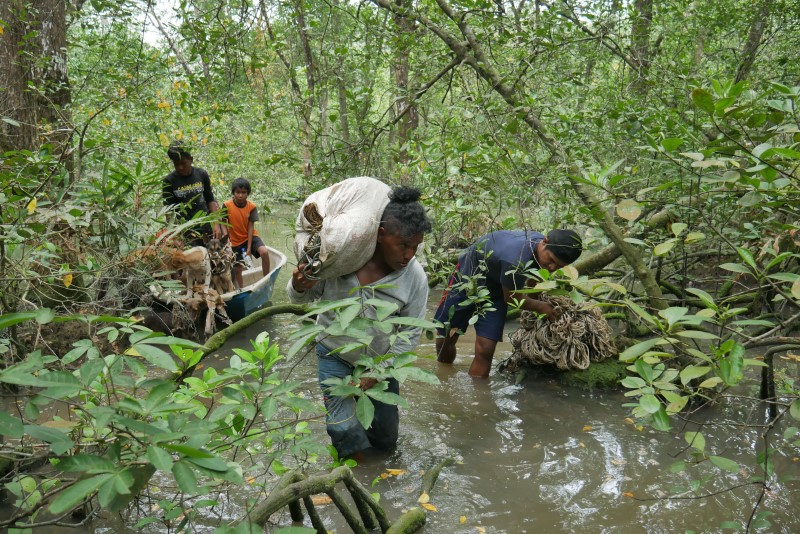 Several Orang Seletar hunting for wild boar in the mangroves of Sungei Melayu in Johor Bahru, 2019. Courtesy of Jefree Bin Salim.
In Singapore, the Orang Seletar lived in various coastal settlements at the mouth of the Kranji and Kadut rivers and on Seletar Island during our early post-independence years. When these areas were slated for development, some moved up north to Johor. Others eventually assimilated into the local Malay community, leaving behind their seafaring and boat-dwelling lifestyle.11 What remains are various toponyms which contain their namesake, such as Seletar Reservoir, Seletar Aerospace Park and Seletar River.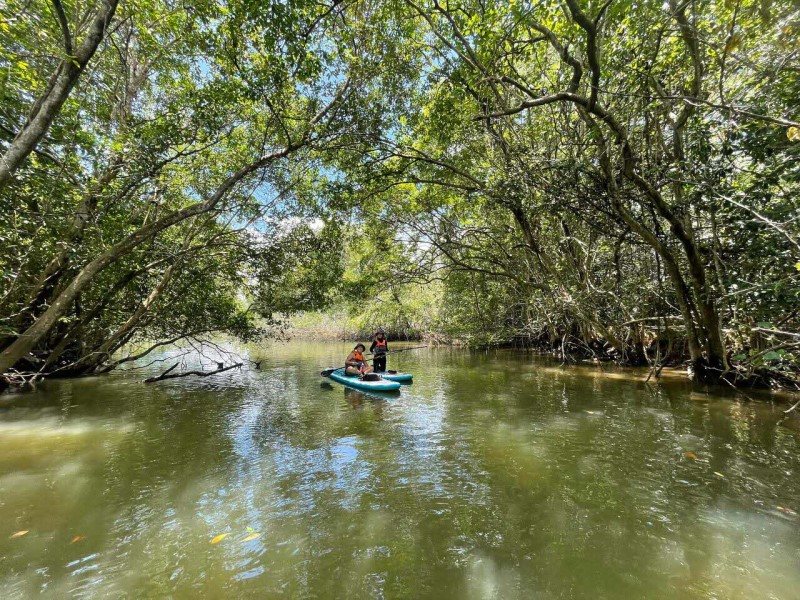 The writer and her friend on a paddleboard expedition to the mangroves of Sungei Simpang, 2020. Courtesy of Outdoor & Adventure Learning Pte Ltd (OAALSG).
As I paddled away from the swamps of Sungei Simpang back to Sembawang Park, I caught sight of Seletar Island. This was one of the places where the Orang Seletar used to gather, docking their pau kajang side by side along the shores. I looked around me and saw other outdoor enthusiasts. Paddleboards, kayaks, and speedboats have replaced the sights of pau kajang that used to ply these waters. It is encouraging to observe urban dwellers still find ourselves wanting to be in nature. We may not be as intimately connected with the natural world as the Orang Seletar, but perhaps being regularly in touch with the waters that surround our island-nation could be a good start.
---
Ilya Katrinnada is an educator and writer with a keen interest in the intersections of creativity, community, and education. Between 2018 and 2019, she was part of a 3-woman independent research team which collected oral history interviews from the Orang Seletar community in Johor Bahru. These interviews were used in a verbatim play, Tanah
•
Air
水
•
土
: A Play In Two Parts
, which was presented by Drama Box in 2019 as part of the Singapore Bicentennial. She has also written about the history of the Orang Seletar in the Apr
–Jun 2022 issue of BiblioAsia, a publication of the National Library of Singapore.
1 The Tebrau Strait is more commonly known as the Johor Strait. In the Orang Seletar language, tebrau refers to a big fish.
2 Constance Mary Turnbull, A History of Modern Singapore, 1819–2005 (Singapore, NUS Press, 2009), 25.
3 Clifford Sather, The Orang Laut (Penang: Malaysian Academy of Social Sciences in cooperation with Universiti Sains Malaysia and Royal Netherlands Government, 1999), 9–10.
4 Amir Ahmad and Hamid Mohd Isa, "The Influence of Environmental Adaptation on Orang Seletar Cultures", 7th International Seminar on Ecology, Human Habitat, and Environmental Change in the Malay World (2014): 176.
5 Letih, interview by Ilya Katrinnada, 9 Jul 2018.
6 Letih, interview by Ilya Katrinnada.
7 Jefree Bin Salim, interview by Ilya Katrinnada, 7 Sep 2018.
8 For more insights on indigenous perspectives of the natural environment, see Robin Wall Kimmerer, Braiding Sweetgrass: Indigenous Wisdom, Scientific Knowledge and the Teachings of Plants (Minneapolis: Milkweed Editions, 2015); Harriet Kuhnlein, Bill Erasmus and Dina Spigelski, Indigenous Peoples' Food Systems: The Many Dimensions of Culture, Diversity and Environment for Nutrition and Health (Michigan: Food and Agriculture Organisation and Centre for Indige nous People's Nutrition and Environment, 2009); Thomas F. Thornton and Shonil A. Bhagwat, The Routledge Handbook of Indigenous Environmental Knowledge (New York: Routledge, 2020).
9 Mariam Ali, "Singapore's Orang Seletar, Orang Kallang, and Orang Selat: The Last Settlements", in Tribal Communities in the Malay World: Historical, Cultural and Social Perspectives edited by Geoffrey Benjamin and Cynthia Chou (Singapore: ISEAS, 2002), 280.
10 Personal communication with Jefree bin Salim, 24 Jul 2021.
11 Ali, "Singapore's Orang Seletar", 278–80, 290.