Text by Lucille Yap
MuseSG Volume 8 Issue 3 - Oct to Dec 2015
To celebrate Singapore's 50th birthday, Singapore Philatelic Museum has curated a special exhibition of stamps, philatelic materials and artefacts.
Stamps are more than tiny pieces of colourful gummed paper used for postage. They are the pride of a nation, reflecting the rich and diverse facets of a country.
Since Singapore became a Republic in 1965, every stamp issue, starting from its first in 1966, has chronicled the nation's journey. The stamps showcase Singapore's political, economic and social development; vibrant multiracial arts and culture; flora and fauna; and links with the world.
Affixed on millions of letters and postcards, stamps are also ambassadors that bring the Singapore Story to all corners of the world.
In 2015, at a special philatelic exhibition to celebrate the Jubilee year of independence, original stamp artworks took their place as stars of the show. Most of them were on display for the first time.
First Stamp as a Republic of Singapore
On August 9, 1965, Singapore separated from Malaysia and became an independent Republic. As the separation came about suddenly, there was a one-year delay in the issuance of the first stamp. The different elements in the stamp highlight the important issues of the period — unemployment and workforce, public housing and industrialisation. It is the only stamp issue that states "Republic of Singapore".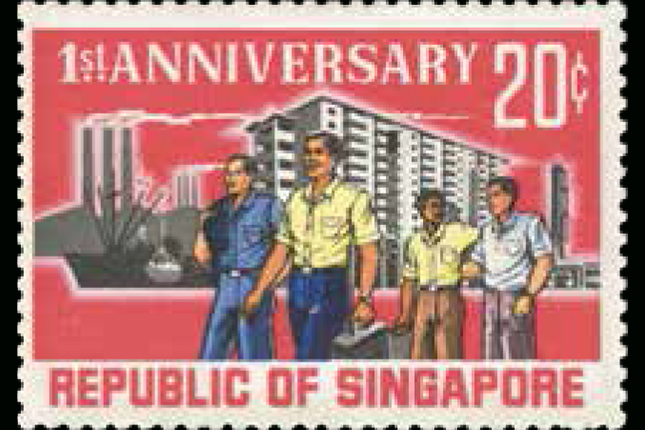 First Anniversary of Independence: Survival in a Challenging Future in a Multiracial Society, August 9, 1966.
Artwork by Ministry of Culture.
First Definitive Stamps
These are four of the 15 stamps from the first definitive stamp collection since independence. The stamps feature cultural performances from the Malay, Chinese and Indian races. With racial unrest having occurred just four years earlier, these stamps were a timely and deliberate reminder that racial harmony would always be a cornerstone of the new Republic.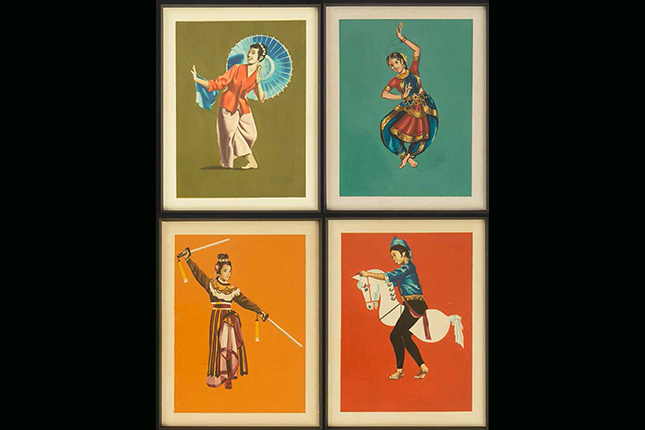 Masks and Dance Definitives, December 1 and 29, 1968.
Artworks by Postal Department.
150th Anniversary of Founding of Singapore
Mr Lee Kuan Yew took office in 1959 when the People's Action Party won 43 out of 51 seats in the General Election. He served as the first Prime Minister from 1959 to 1990. He remained in service for another 20 years as senior government advisor.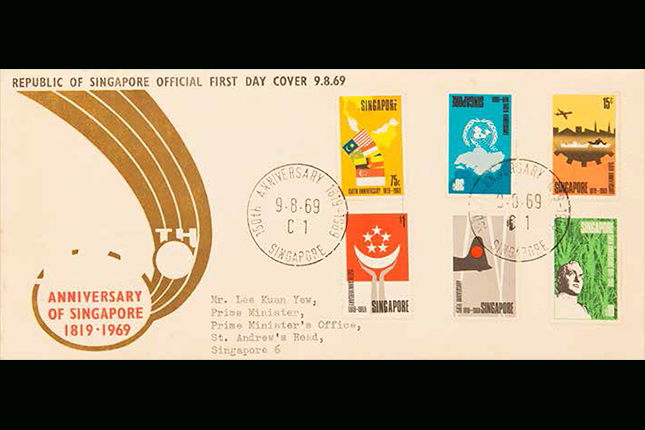 First Day Cover address to Founding Prime Minister, Mr Lee Kuan Yew, at the Prime Minister's Office, August 9, 1969.
Housing the People
Singapore today has one of the highest home ownership rates in the world in contrast to the 1950s and 1960s, when thousands of people were cramped in slums and squatter settlements under appalling and unsanitary living conditions. Mr Lim Kim San became the first chairman of the Housing and Development Board (HDB) in 1960. Things began to change. An accelerated low-cost housing programme was initiated, coupled with the Home Ownership Programme.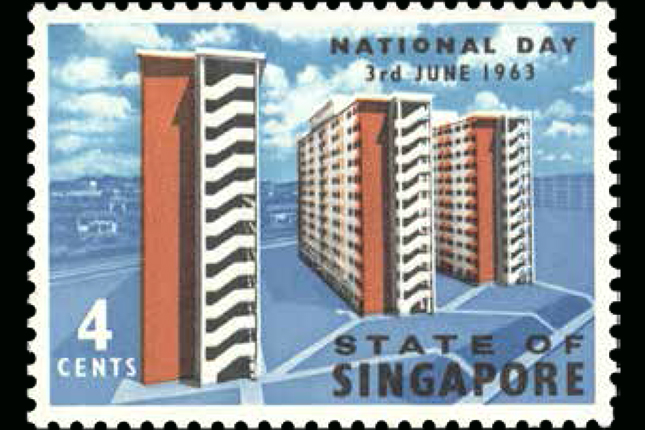 National Day - Progress of Housing Development in Singapore, June 3, 1963.
Artwork by Postal Department.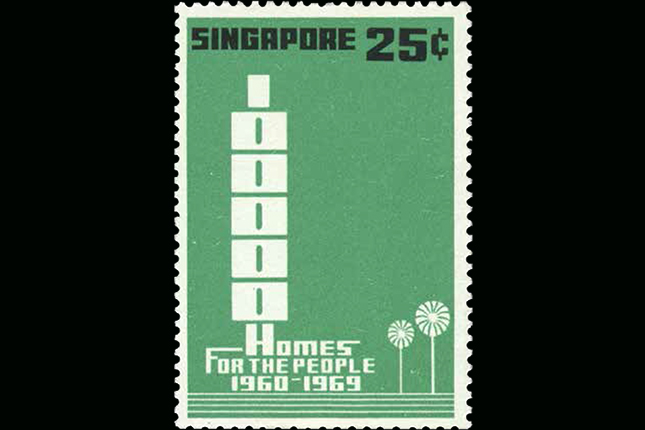 100,000 Homes for the People, July 20, 1969. This stamp was issued to celebrate HDB's completion of the first 100,000 homes for Singaporeans. According to records, about 600,000 people were settled in these flats.
Artwork by Tay Siew Chiah.
National Service and the Use of Lion Head Symbol
This set of stamps commemorates the 20th anniversary of National Service. Introduced on March 17, 1967, over 9,000 young men born in the first six months of 1949 were conscripted for National Service. This was seen as an effective way to build a defence force without further draining the country's resources.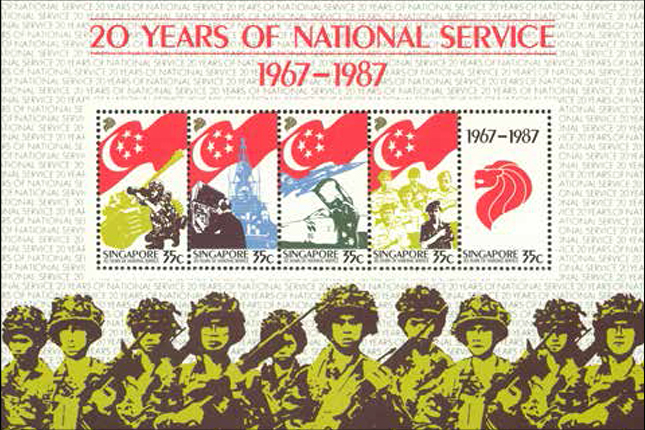 20 Years of National Service, July 1, 1987.
Artwork by Melvin Ng PC.
This stamp issue also featured the Lion Head symbol for the first time. It has since been a permanent feature for every stamp issue.
Keeping Our Taps Running
As Singapore became urbanised and the population grew, the demand for water increased. Fearing that the taps might run dry, Singapore expanded and diversified its water resources. Today, Singapore has 17 reservoirs, 32 rivers and 8,000 km of drains and canals to collect and channel rainwater for consumption and use. This was made possible by cleaning the waterways and rivers. The success of cleaning the Singapore and Kallang Rivers led to another ambitious water project — the Marina Barrage.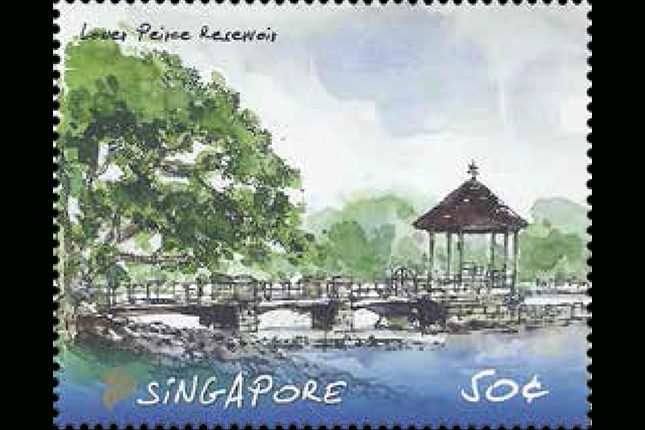 Reservoirs of Singapore - Lower Pierce Reservoir, March 22, 2012.
Artwork by Don Low.
Greening Singapore
Flora and fauna have been a recurring theme in Singapore's stamps, emphasising the importance of Singapore as a green city. In 1963, Mr Lee Kuan Yew started the greening movement by planting a Mempat tree at Farrer Circus. The aim was to distinguish Singapore from other cities in its drive to industrialise and urbanise as the nation moved from Third to First World. Since 1971, there has been an annual Tree-Planting Day.
Sports Binds the Nation
When Singapore hosts major international sports events like the latest 28th SEA Games, Singaporeans throng the National Stadium at Kallang to cheer on the home contingent. Like all the previous SEA Games (the first in 1973 was known as SEAP Games) that Singapore hosted, the atmosphere for the last SEA Games was described as electrifying with all-out home support for the athletes.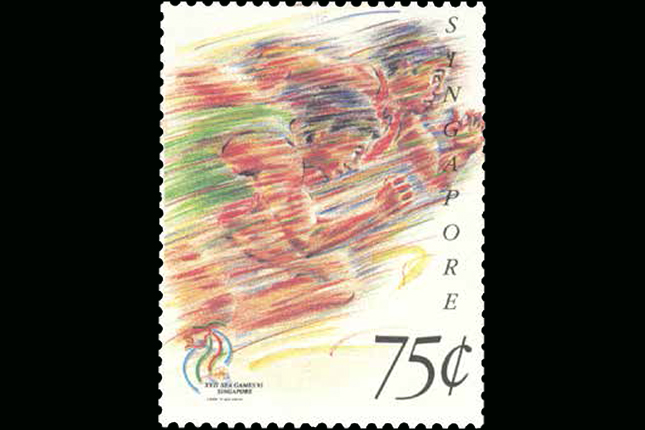 Sport Series - XVII SEA Games 96 Singapore, June 12, 1993.
Artwork by Leo Teck Chong.
Conserving Our Heritage
In the race to build a modern nation in the 1960s and 1970s, much of the built-up areas in the city had to be torn down. The Urban Redevelopment Authority was set up in 1974 to plan land use and conservation. It applies the "3R" Principle for conservation: Maximum Retention, Sensitive Restoration and Careful Repair. As of 2015, more than 94 conservation areas have been documented resulting in 7,000 buildings receiving conservation status.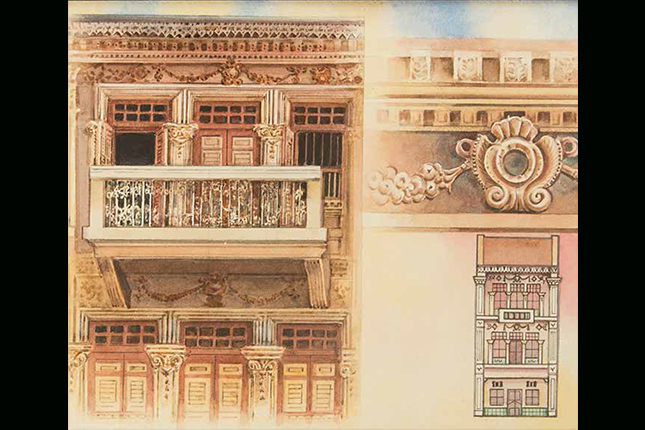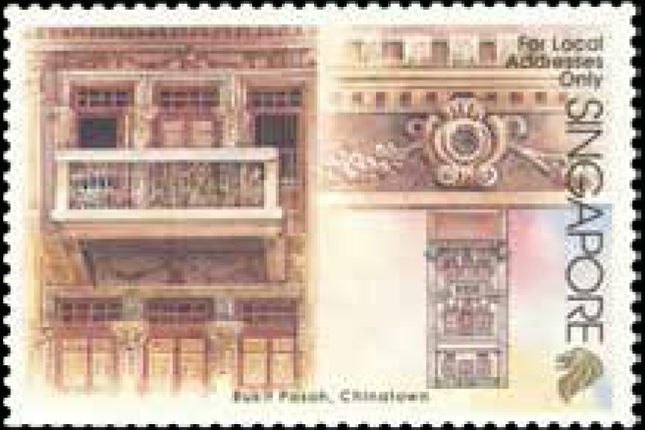 Architectural Heritage Series - Conservation, Bukit Pasoh, Chinatown, January 17, 1996.
Artwork by Poh Siew Wah.