Grooming Champions of Heritage
When the Global Indian International School (GIIS) donated towards an exhibition at the Indian Heritage Centre, they showed their students what it means to practice a strong philosophy of giving.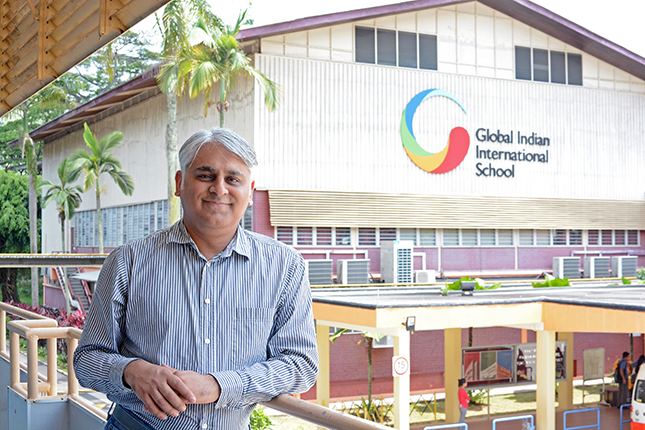 Rohit Ambekar, the Director of Business & Strategy at GIIS.
Photo credit: Anabelle Liang
"The Global Indian International School (GIIS) believes that expatriates are part of its multi-faceted heritage, hence they should upkeep Singapore's social fabric," said Rohit Ambekar, Director of Business & Strategy for GIIS.
The overarching Global Schools Foundation has educated numerous expatriate children, from Kindergarten to Class 12 since its origin in 2002, and presently has 15,000 students across all its campuses globally.
Students from 42 nationalities study in its three campuses, located in Queenstown, Balestier and East Coast in Singapore. GIIS has a global footprint in seven countries - Singapore, India, Malaysia, Japan, Vietnam, Thailand and UAE.
"Our core curriculum is Indian and our roots are embedded in Indian culture and heritage. But, our education system is more pluralistic than that," Mr Ambekar explained.
Among other goals, GIIS hopes to instil a respect for universal values and ethics, which is "very much in tune with multiculturalism and the coexistence of different races in Singapore," he said.
With this in mind, GIIS made a generous donation in support of the Indian Heritage Centre's 'Once Upon a Time in Little India' exhibition last year. It runs until 21st July 2017.
"We wanted to be associated with the Indian culture at a deeper level. Intuitively, you would think that labelling something as an Indian exhibition is divisive. But, it's actually very beautiful," said Mr Ambekar.
"When the Indian culture came to Singapore, it was hybridised with the other predominant Chinese and Malay cultures. The exhibition showcases the contributions of Indians with a uniquely Singapore spin," he added.
Engaging visitors
The exhibition tells the story of Little India – a cultural enclave for the South Asian community – through photographs, artefacts, and contemporary art installations.
It features the works of filmmaker K. Rajagopal, and artists Kumari Nahappan and Navin Rawanchaikul. Groups of GIIS students have visited the exhibition.
Elements of gamification and virtual reality, found in the centre, kept students engaged. "They put a very interesting, modern spin on heritage issues," Mr Ambekar said.
"The feedback has been great. Students loved the exhibition and the Indian Heritage Centre. And, of course, being young children, they enjoyed the day out as well," he shared.
Mr Ambekar, who has visited museums around the world, was just as impressed with the centre's larger-than-life LED wall. While moving between galleries, visitors can get closer to colourful displays of Indian icons and architecture.
"I'm a modern tech geek," quipped Mr Ambekar. "I appreciate the amount of thought that's gone into the minutiae, in creating something which is just one part of an overall exhibition."
What's next
Like many institutions, GIIS hopes to be a role model for the young. This means the school focuses on more than academics. Its curriculum includes sports, problem solving and community service.
"We're a platform that allows young people to shape their future. If someone wants to become an entrepreneur, we help them. If someone wants to teach or dedicate their lives to volunteer work, we help with that," Mr Ambekar said.
"I'd like to think that the leaders of tomorrow are going to need much more than good results," he added.
Still, more can be done to get the young excited about heritage. The ongoing dialogue between schools and key stakeholders is a good start, Mr Ambekar said.
He added that students may enjoy visiting other museums and heritage sites, and walking along historical stretches of Singapore, such as Boat Quay.
A culture of giving
To recognise its contributions, GIIS will receive one of this year's Patron of Heritage Awards in May.
"On the most basic level, contributing creates awareness. Philanthropy is part of our DNA, being owned by a foundation, so we will continue to do so," said Mr Ambekar.
"We try to imbibe that kind of giving philosophy in our students as well. So, when they grow up in their own spheres, as they become successful, they will think about others and not entirely about themselves," he added.
The school hopes to continue giving more than dollars and cents. "I'd like to see us engaging (with heritage) in a deeper way. This is something that will evolve over time," Mr Ambekar said.
"It's our belief that we are a core part of the Indian heritage of Singapore. By offering Indians a continuity of education, we have enabled a funnel of Indian expatriates to come and contribute to the economy."
By ANNABELLE LIANG