This story was first published in Trading Stories: Conversations with Six Pioneering Tradesmen at National Museum of Singapore that was exhibited from 15 March till 23 June 2013.
---
Ang Hao Sai - Poster Painter
He turned his skill to commercial art jobs just as the movie poster painting industry was declining. His ability to seize business opportunities when they came and his courage to adapt to changes have kept Hao Meng Art Studio growing into the second generation.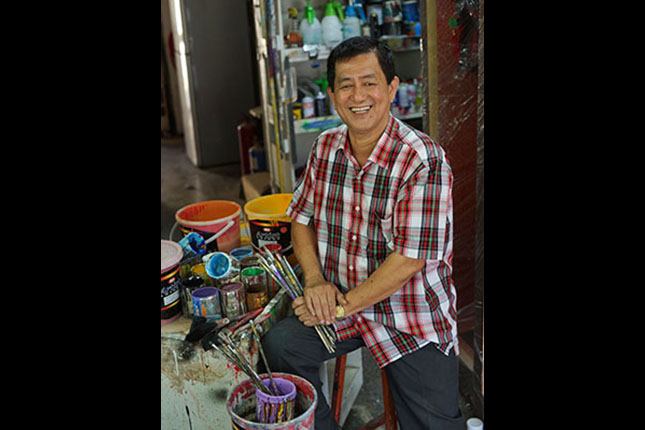 Ever wondered about the artist behind the lifelike painted posters advertising upcoming blockbusters of the silver screen? Born in Singapore, Mr. Ang Hao Sai was one such artisan whose excellent brushwork created these extravagant works of art. Displaying an early talent for art, Ang left school after Primary 6 to become an apprentice at a poster studio.
Ang eventually became the studio's master painter, tasked to work on sections requiring fine detail such as the faces of movie characters. At its peak, painters worked in assembly-line shifts producing up to 50 posters each time.
After the studio closed down in the 1980s, Ang launched his own poster painting business in 1987. In keeping with the changing times, Ang also branched out to commercial projects such as signages and props. This plan later expanded into a major business involving the building and painting of stage backdrops. Over time, as the cost of labour rose and new printing technologies became readily available, Ang switched to inkjet printing of photo-real posters as the promotion of new films shifted from large billboards to online platforms. The family business continues to thrive today because of Ang's foresight and quick adaptation to change. Today, he remains actively involved in his business.
Watch: Poster Painter
---
Educators Guide & Activity Sheet
About the Exhibition
Trading Stories: Conversations with Six Pioneering Tradesmen draws on firsthand accounts of six tradesmen and community contributions to provide fresh insights on old trades of Singapore. In spotlighting the lives of six individuals and placing their contemporary accounts at the heart of storytelling, the exhibition's approach presents old trades as practiced and the tradesman's story as a history of negotiating change in modern Singapore.
A community exhibition presented by the National Heritage Board, Trading Stories also showcases the memories, personal photographs and memorabilia of Singaporeans who have come together to contribute their stories. This exhibition is as much a tribute to the fortitude and entrepreneurial courage of Singapore's older workforce, as it is an acknowledging nod to the many experiences and voices that make up the fabric of the Singapore Story.