About five decades ago, Tampines was nothing more than a rural area filled with kampongs, swamps and farms. Many Singaporeans might have even considered the place too ulu ("remote" in Malay) to travel to.
Today, Tampines is home to more than 250,000 residents and ranks as one of the largest towns in the nation. However, despite the significant changes to the landscape, one can still find traces of Tampines' past.
Through photographs, artefacts and stories of former and present residents, this gallery documents how Tampines has evolved through the decades into a vibrant town. Join us at Our Tampines Gallery to find out more about Tampines and its sites of heritage, houses of faith and scenic green spaces.
From Remote District to Vibrant Town
Mapping Tampines
The earliest known reference to Tampines can be found in an 1828 map, showing the location of Sungei Tampines as "R. Tampenus". In a subsequent 1839 map, Tampines was part of a district named "Teban and Tampinis", which also encompassed present-day Pasir Ris.
By 1898, Teban and Tampines had become two separate districts, with the boundary of Tampines expanding slightly southwards. This boundary remained largely unchanged until the late 1970s. In 1978, Tampines became one of the eight designated public housing zones in the country.
That same year plans for a Tampines Town were announced. The new town is positioned further south of its former boundary and Pasir Ris was carved out as a separate town. Tampines was originally slated to house 230,000 residents in 45,000 flats, with space set aside for future residential developments in Tampines West and North.
Moving Into Our Homes
For many of Tampines' early residents, moving into new high-rise homes was a major transition from rural life. HDB eased this transition by adopting a town planning model that grouped four to eight blocks of flats around public spaces and playgrounds, and interlaced neighbourhoods with green corridors.
These efforts to foster a warm neighbourhood environment were met with success. According to a 1986 survey of residents living in Tampines and Jurong, those living in the former were found to know more of their neighbours and felt a stronger sense of responsibility towards their surroundings.
As residents began to settle down in their new homes, elements of modern life started to enter the household. Here are some of the nostalgic items typically found in a Tampines home that reflect how residents came to embrace their new lives.
Living In Our New Town
When it was first built in the early 1980s, Tampines was a stark contrast from the vibrant town that we see today. Many early residents remember the area to be quiet, dark and even ulu, and lacking in basic infrastructure such as streetlights and transportation.
Despite this, people chose to live in this town for myriad reasons. These included the affordable price of the new flats, and, especially for newly married couples, the desire to stay closer to their families living in the east.
However, it was not long before the town became a bustling place. Before the malls were built in the 1990s, Tampines Round Market served as the main social and commercial centre for residents when it opened in 1983.
Other similar neighbourhood centres at Tampines Street 21 and Tampines Central 3 also catered to residents' needs with its range of amenities and services. These social nodes became meeting points for family, friends and neighbours.
"We moved to Tampines in 1985. At the time there weren't as many flats (as there are today). When we met our friends from other parts of the island, they would say: 'Wah you live in Tampines, you ulu type ah.' Nevertheless, we chose Tampines because we wanted to be close to our family."
– Mr Anwar Bin Haji Mawardee, a resident of Tampines for 33 years
"The Round Market was a short walk away from my flat and provided us with a wide array of amenities. It was also my weekend breakfast hangout spot with my cousin. We used to sit for hours stirring our kopi-o (sweetened coffee without milk) and mingling with friends."
– Mr Jason Vinod Peter, a former resident of Tampines
"When I was driving home in the late 1980s, there would only be one or two cars left on the PIE after I pass the Bedok exit. There was no MRT in Tampines then, and if you wanted to take the bus, you'd have to walk out to the main road."
– Mr Andrew Ng, a resident of Tampines for 32 years
The Growth of Tampines Town
Within a decade, Tampines Town became a hub of activity and a popular choice as a place to live in. It was reported in 1993 that every new four-room flat in the town attracted an average of 37 applications!
In 1993, the Development Bank of Singapore (DBS) opened the former eight-storey Tampines Centre. Operating out of this building was Japanese retailer Sogo, which had a supermarket and a department store. The Pavilion Cineplex, which had four cinemas, also opened that same year.
These two landmarks were later replaced by newer malls. Century Square and Tampines Mall were built in 1995 and Tampines 1 opened its doors in 2009, occupying the site where Pavilion Cineplex and DBS Tampines Centre used to be. In 2013, Tampines became Singapore's first cycling town with an 11.3 km cycling path network. With such exciting facilities, Tampines became the place everyone wanted to be.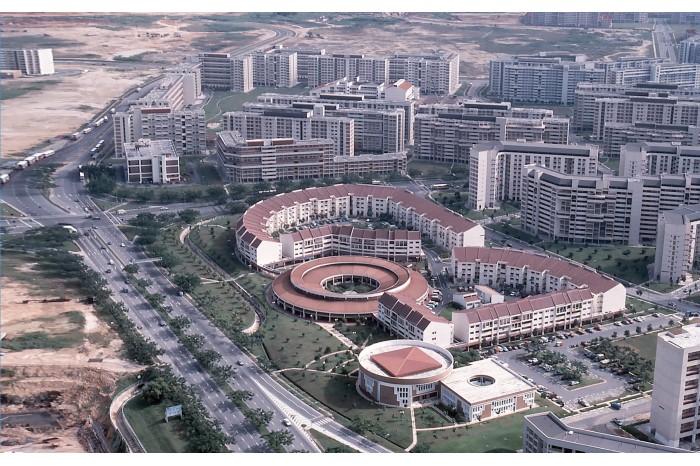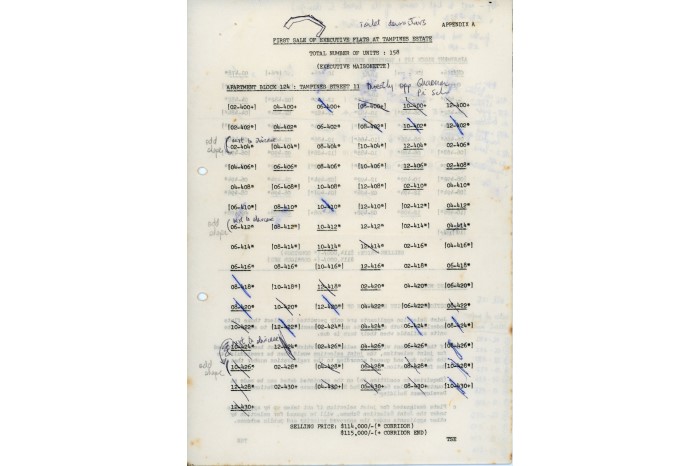 Kampong Days: Our Spirit, Our Life and Our Home
Kampong Life in Tampines
While kampong life in Tampines was tough due to poor infrastructure and a lack of amenities, these challenges were not insurmountable because residents always worked together and helped each other. Indeed, kampong life is often remembered for its heart-warming camaraderie known as the kampong spirit.
In fact, this community-centric culture was often extended to strangers as well. In the 1960s and 1970s, Singapore Armed Forces soldiers often trained in Tampines, and villagers would always offer them food and drinks.
What did people do for leisure back then?
With limited leisure and recreation options back then, children often found satisfaction in simpler pleasures. For example, former residents remember watching planes take off from the fence bordering Paya Lebar Airport, or exploring the many fruit trees in the area.
Conversely, the older residents of early Tampines would stage wayangs, or street operas, at Chinese temples during special occasions. The kampong folk also patronised open-air cinemas including the one located near Hun Yeang Village.
Kampong houses were usually built using simple materials such as timber and attap (nipah palm leaves). The latter was commonly used for the building's roof, but later dwellings also featured zinc roofs as they were less of a fire hazard. A downside to zinc roofs was that they made a lot of noise whenever it rained.
It was also common to find small farms within the kampongs, and residents usually reared livestock such as pigs and chickens. The larger kampongs even contained ponds where fish were reared for sale.
Amongst kampong residents, farming was a common occupation and some of the vegetables grown in Tampines included kangkong, cabbage, bayam, sweet potatoes and brinjal. Other residents were involved in cottage industries such as cattle herding, fish breeding, beancurd making and even crocodile farming.
From the 1960s, in tandem with the growing quarrying industry, some kampong residents also established family-run sand quarries to earn a living. Some of these quarries supplied sand for the building of significant developments such as Changi Airport and the former Westin Stamford Hotel (now Swissotel The Stamford).
"Westin was then the tallest hotel in the world, so [the building] needed to have very deep piling for its foundations. [The building's construction] had to have consistent loads of sand arriving each day. It was almost non-stop and my father would have to go to the quarry at 2am or 3am to oversee the sand deliveries. As a child, I would sometimes follow him to see how the quarry operated."
– Mr Koh Eng Hwa, a former Tampines kampong resident whose family owned a quarry.
Aside from exploring the area's natural environs, many kids who grew up in kampongs entertained themselves with games. One of the most common games was capteh. In this game, a player has to keep a feathered shuttlecock in the air for as long as possible using only his or her feet. Other popular games were gasing (spinning top), five-stones and sepak takraw (a traditional sport played using a rattan ball).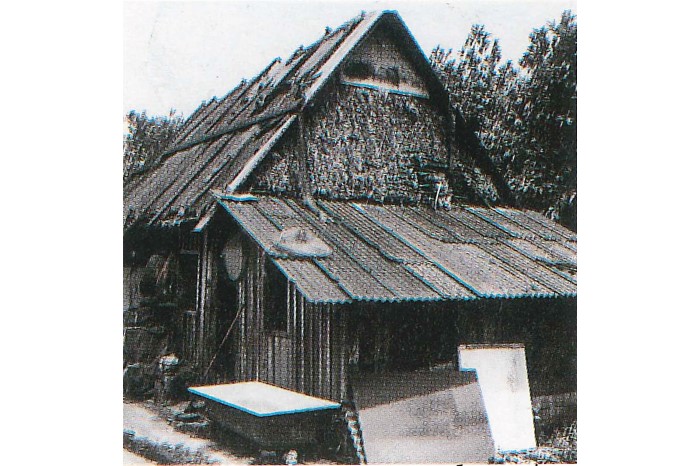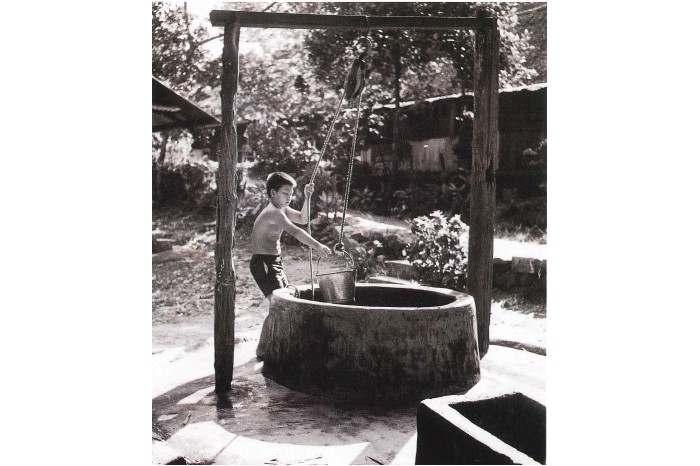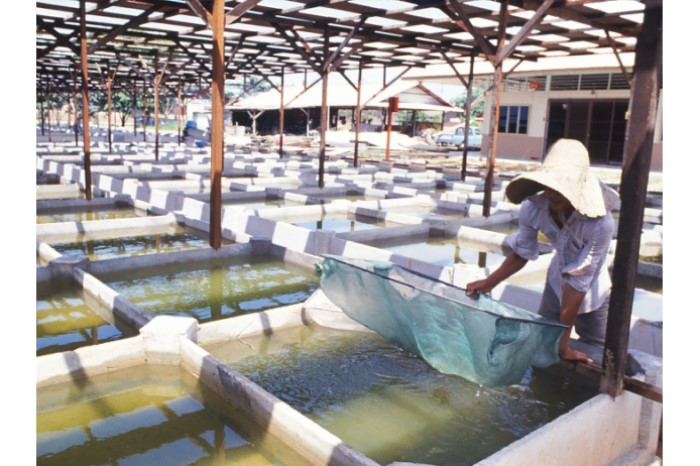 From Tempinis To Tampines
The town derived its name from the evergreen tree Streblus elongatus which was commonly found in the area. The tree is also known by its Malay name Tempinis. Up until 1939, Tampines was spelt in various forms because of its transliteration from Malay into English, and it was only in the 1950s that "Tampines" became the official version.
Can you imagine that…
Tampines was once filled with mangroves, mudflats and freshwater swamps where many fishermen built kelongs and got around using boats made with mangrove timber? These fishermen also often waded waist-deep into the waters of Sungei Tampines with their nets to make a catch.
What wild animals used to roam Tampines?
The Malayan Tiger was among the wildlife found in Tampines and it was believed to have crossed the Johor Strait into Singapore to breed. In fact, there were numerous tiger sightings reported in Tampines in the late 1800s.
Early Land-Use and the Industrial Boom
In the days before urbanisation, Tampines used to be home to many plantations and other industries. The Clearwater Dairy Farm, which was owned by British businessman Charles Edwin Crane, operated in Tampines from the late 1800s to 1905. The farm-bred cattle produced milk for the European community.
From the 1900s, most plantations in Tampines were converted into coconut and rubber estates because of the economic potential of the two crops. Vast coconut plantations were established off Tampines Road, and they were essential to the manufacture of toddy, an alcoholic drink distilled from coconut sap.
Tampines was also known for its waste disposal and processing industry. A former sewage and night soil treatment facility as well as a landfill were located in the area known today as the Lorong Halus Wetlands.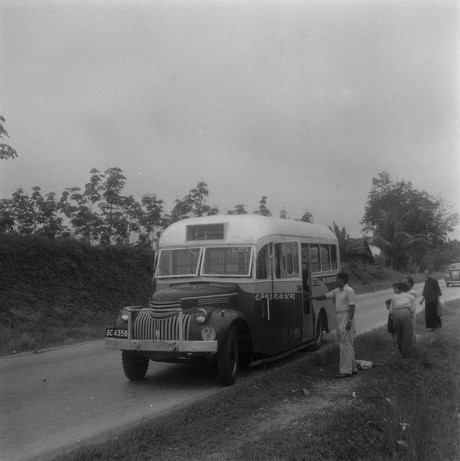 A bus run by the Paya Lebar Bus Company along Tampines Road, 1956
F W York Collection, Courtesy of National Archives of Singapore
Tampines Road was first constructed in 1847 and was initially used as a path for horseback riders and pedestrians only. This changed in 1865 when the colonial government widened the path to allow cart traffic, and it subsequently became a road for vehicles in 1886.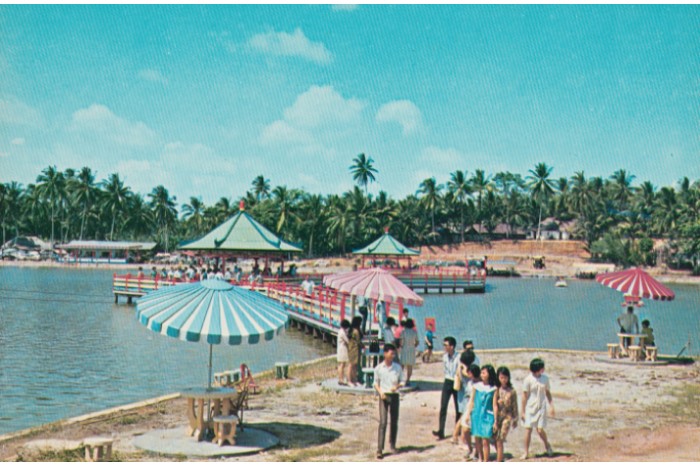 A postcard depicting the Golden Palaca Holiday Resort, 1970s
National Museum of Singapore Collection, Courtesy of National Heritage Board
Tampines used to have its very own a leisure resort known as the Golden Palace Holiday Resort. Established in 1967, the resort had a nightclub, a snack bar, a motel and a man-made lake. It also housed two Chinese restaurants serving Shanghainese and Cantonese cuisine.
The Quarries of Tampines
Although the sand quarrying industry in Tampines started as early as 1912, it was only in the 1960s when the industry went into overdrive. During this period, sand was required for Singapore's numerous public housing projects. At its peak, there were more than 20 quarries in Tampines.
The quarrying industry remained strong well into the 1970s and many farmers gave up their farms to become drivers and manual labourers in the quarries. By 1972, the amount of sand being transported out of the quarries each day filled between 1500 and 2000 lorries.
By the late 1980s, sand quarrying activities had slowed down. The last quarry located near the southern end of Paya Lebar airport ceased operations in 1991 and some quarries were even converted into fish ponds by entrepreneurs.
A Land of Rubber and Coconut
During the 1900s, there were many coconut and rubber plantations in Tampines. The swampy soils of Tampines were particularly suitable for the cultivation of coconut, which led to an increase in the number of coconut estates. Tampines also had the biggest rubber plantation in Singapore. In 1910, Tempenis Para and Coconut Plantations Limited owned more than 3,000 acres of rubber estate in the area.
The coconut tree has many uses. In the past, the sap from the coconut palm was used to manufacture toddy, an alcoholic beverage. Today, coconuts are still used to create a variety of products such as coconut oil, which can serve as a moisturiser.
Likewise, rubber is a material that is widely used in many products today. Since the late 1800s, rubber has been used to produce tyres as well as other items such as erasers, gloves, flooring, airbags and wire insulation.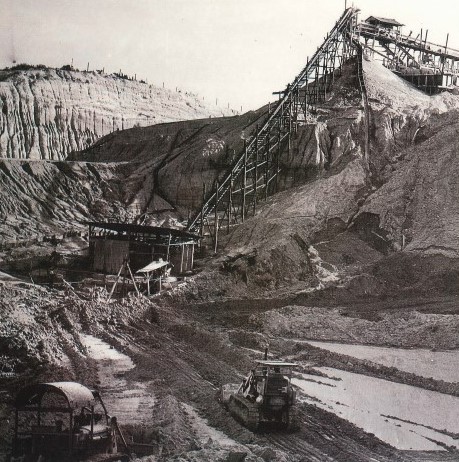 A sand quarry in Tampines, 1970s
Courtesy of Tampines GRC Community Sports Clubs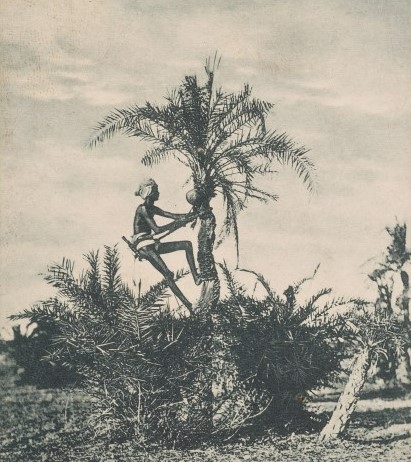 A worker climbing a coconut tree to draw sap for the production of toddy, early 20th century
National Museum of Singapore Collection, Courtesy of National Heritage Board
Versatile Plants: Lemongrass and Citronella
During the 1800s, lemongrass and citronella were grown in Tampines. One of the most well-known estates that cultivated these crops in the area was Teban Louisa, a sprawling 773-acre plantation that produced essential oils.
As its name suggests, lemongrass has a citrusy flavour and is commonly used in cooking dishes such as rendang (a Malay meat dish), chilli crab and satay sauce. The plant is also believed to be useful for stress relief and is a key ingredient in essential oils.
Similarly, citronella is also a versatile plant that is used as a home remedy to increase appetite as well as treat muscle spasms and infections. Due to its anti-inflammatory and anti-fungal properties, citronella is also a common ingredient used in mosquito repellent.
Tampines Today
Community spaces such as places of worship, green spaces and markets, are key to the heritage and culture of a town. As Singapore progressed over the past few decades, there have been many developments in the town of Tampines
In the 1980s, the Tampines Central Park was first introduced by the HDB to bring nature closer to its residents. The park's standout features include its iconic fruit-themed playgrounds and the Mother and Child sculpture by renowned local Cultural Medallion recipient Ng Eng Teng. Decades later, Tampines has seen even more changes. In 2017, the nation's first integrated community and lifestyle hub, Our Tampines Hub, was officially opened.
The following community spaces have brought people together, kept traditions alive and helped to define the identity of Tampines over the years.
Visit the Our Tampines Gallery for more on the rich history and culture of the area and join us for our programmes at https://nhb-eco.peatix.com!