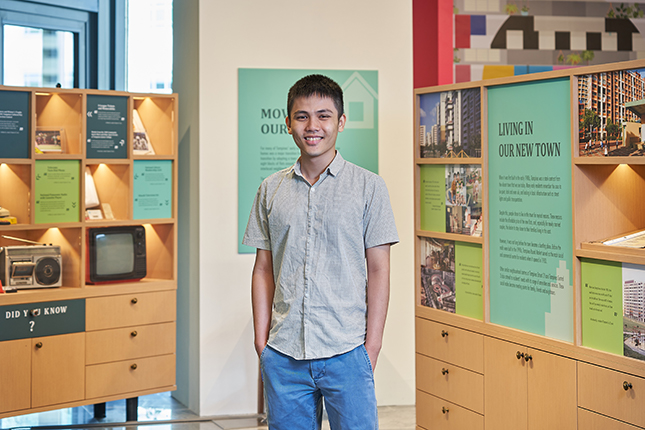 He forms a part of a new breed of museum guides. That is not only because of his age. Joshua Goh is a guide at Our Tampines Gallery, located at the second level of Tampines Regional Library at Our Tampines Hub.
Although it is hard to pinpoint what sparked his interest in community-based heritage, this NUS graduate student says that he first became drawn to the rich tapestry of social memories embedded in the Tampines community as an intern during his undergraduate days. He was helping to curate the gallery's initial content in 2017, when construction work on Our Tampines Hub was still underway.
During the months-long process, he had the chance to venture around the town, conducting oral history interviews and speaking with residents whose diverse stories showcased the many faces of the Tampines community. Well-loved sites like Tampines Round Market and Sun Plaza Park were places he got to know well as students, residents, and store owners from around the town chipped in with their memories and anecdotes.
It was a natural progression for him to then go on to become a guide at Our Tampines Gallery. Tampines continues to grow on him. And, it should. He wanders around the place quite a bit, getting to know its environs. For him, it is all part of getting familiar with the vibe of the place where the gallery is situated.
Catering to young and old
As a community gallery in the heartlands, Our Tampines Gallery, like its cousin at Wisma Geylang Serai, documents and showcases a community's rich heritage and social history. These spaces allow members of the public to explore the unique identities of different towns and districts in Singapore by highlighting the distinct ways in which various place-based communities evolved even as Singapore developed as a whole.
When older visitors reminisce and banter over photographs of Tampines during the kampong days, Joshua sees clearly how invaluable a space like Our Tampines Gallery is. The social memories of residents of yesteryear are replete with images of rural Tampines as a remote area, dotted by sand quarries and the occasional village connected by dusty roads. Joshua recalls how one former resident vividly related the transformation of this pit-scarred environment into the town we know today — a recollection sparked by a photo of sand being transported from Tampines to Bedok for the East Coast Reclamation Project in the 1970s.
Such personal stories "make it real" for Joshua. He sees his role as one of helping older residents recollect and reconnect with a past which may no longer be evident in the town's physical landscape.
Among visitors, there is another group that Our Tampines Gallery attracts — the young. For this group, Joshua aims for something else: using the Tampines story to bring alive in their mind's eye what they read in their textbooks about Singapore's past. Joshua feels they often don't fully understand the content taught in classroom lessons.
Take, for instance, the Hock Lee Bus riots in the 1950s. Most know the episode from textbooks, but are unable to appreciate the unique context behind the company's name. So, he uses a photo of a bus from the Paya Lebar Bus Company, which served rural Tampines, to sketch out how Singapore was served by a patchwork of private bus companies in the mid-20th century, with the Paya Lebar, Hock Lee, Green, and Tay Koh Yat bus companies each serving different districts. And, as he continues to describe this to younger visitors, he looks out for the moment when their eyes light up at having made the connection.
Connecting with new locals
Over the years he has had more and more new citizens turning up for the gallery's tours. And, as visitors go, these visitors possess great curiosity about the finer aspects of the community's past.
"They have an interest in facets of Singapore culture that we tend to take for granted, and their queries shed light on the many unique aspects of our heritage." Joshua says that while these visitors may not know a great deal about Singapore, getting familiar with a specific community like Tampines is a great start. Often this triggers further interest, and this guide never hesitates to direct them to Singapore's other museums and heritage institutions.
He has had challenging questions from them. "How do you explain what a kelong is to new Singaporeans unfamiliar with local terms?" The NUS graduate does not skip a beat when questions of this nature are posed to him. Using aerial photographs of Tampines' originally swampy and alluvial coastline, he dives into how the Sungei Tampines used to be filled with mangrove habitats, with fishermen using wood from these trees to build offshore fishing platforms.
With each explanation, he invites visitors to reflect on the rapidly changing landscapes of Singapore, and to make connections between the past and the present — in the case of Tampines, drawing links with its reputation today as a green and eco-friendly town.
A personal conviction
Joshua says he enjoys these conversations with fellow Singaporeans. He is aware that there are Singaporeans who are already innately interested in heritage matters — people like himself who are drawn to studying the nuts and bolts of the past. But, there is a much larger pool of Singaporeans who he feels may still harbour misconceptions about heritage as being boring, inaccessible, and lying only in grand monuments.
His personal mission is to convince them that the stuff of heritage lies in the everyday — simple things like hawker centres, neighbourhood wet markets, or malls that we frequent. "These (form) our working fabric of our Singapore heritage as well. It's our everyday experiences that shape this collective," he says.
For Joshua, talking about heritage is more than just dishing out facts about the past. His belief in the value of community galleries and their embeddedness in the present-day lives of residents lies in his conviction that "heritage is not just about the old stuff, something obscure that happened in the 1950s and 1960s." That's when Joshua points out that elements of a community's present-day environment — including playgrounds, libraries, and malls — will soon become a part of our heritage. "So, it's not (only) about the past, it's equally about the present and the future."
By Shobi Pereira