Pearls Centre at 100, Eu Tong Sen Street, Singapore 059812, was built by Outram Realty and completed in 1977. The 22-storey commercial-residential complex comprises a 10-storey podium block housing a four-storey shopping centre, a cinema, a six-storey carpark and a 12-storey tower block of apartments above the podium. It consists of a total of 199 shops and 44 residential units.
Situated at the foot of Pearl's Hill, the site was part of a Chinese gambier plantation during early 19th century. In May 1822, Captain James Pearl, the Commander of The Indiana, was granted permission from the Temenggong to acquire the site for his residence and later, developed the site into a pepper plantation. The site was named Pearl's Hill in 1828 and was sold back to Government. The site for Pearls Centre was not developed until early 20th century.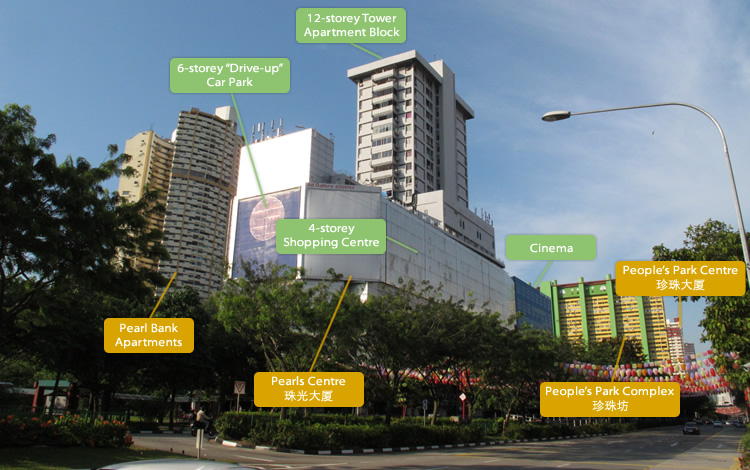 In 1975, the Pearls Centre apartment units consist of 1 bedroom (690 sq ft), 2 bedrooms (1,538 sq ft) and 3 bedrooms (2,104 sq ft) units and they were priced between S$65,000 to S$190,000. There was also a private children's playground on the tenth floor.
The Pearls Centre shopping centre was once a popular location for small businesses during the 1980s. The retail mix of the centre comprises food and beverage outlets, tailors, travel agencies, salons, shops selling healthcare, household, religious and fashion products, as well as night clubs.
One of the key tenants at Pearls Centre is Yangtze Cinema (长江戏院) which opened on 27 January 1977. The cinema showed mainly Chinese kungfu movies during its early days and subsequently started to screen erotic films in 1995. During the late 2000s, the cinema attempted to upgrade its image by screening blockbusters but in 2011, following a S$350,000 renovation, it returned to the screening of erotic films.
Other key tenants at Pearls Centre include Nam Ho Travel Service (S) Pte. Ltd. (南和旅行社私人有限公司), Chinese Patent Medicines and Medicated Liquors Centre Pte Ltd (中国成药药酒中心)(which was acquired by TCM Chinese Medicine Pte Ltd (中国医药保健有限公司) in 1997), and a Singapore Turf Club betting centre which opened on 10 July 1998.

Yangtze Cinema's RA Movie advertisement, 2008
The Pearls Centre Commercial Association (珠光大厦商联会) and Pearls Centre Zhong Yuan Club (珠光大厦商业中心中元会) looked after the general welfare and interest of the centre's commercial owners and tenants and the Zhong Yuan Club has been organising annual donation drives during the Mid-Autumn Festival.
Throughout the 2000s, Pearls Centre suffered from an unsavoury reputation due to Yangtze Cinema's screening of erotic films, the prevalence of massage parlours which was reported to provide sex related services, as well as reports of police crackdown on vice activities. The centre's reputation was further damaged by reports of escalator and air-condition failures, floods in the basement etc.
In August 2012, the Singapore Land Authority (SLA) announced plans to acquire Pearls Centre for the construction of underground tunnels for the Thomson Line (TSL), and tenants and residents given two years to vacate their respective premises by August 2014. (Note: The deadline was subsequently extended to 2015).
According to a SLA press release dated 25 Apr 2013, 241 of the 243 owners (44 residential units and 199 shops) and 174 of the 175 eligible tenants had accepted the government's compensation package which comprised statutory compensation and an ex-gratia payment.
A project by National Heritage Board.