Parts of Jalan Kubor Cemetery used to be a mangrove swamp, and according to 19th century reports, there were 3 distinct burial plots – a Malay cemetery, the Sultan's burial ground located within the cemetery and a cemetery for Indian muslims.
The name "Jalan Kubor" translates directly into "Cemetery Road" and the cemetery is also known by different names including Sultan Kramat, Victoria Street Cemetery, Sultan's Burial Ground etc.
Based on the plans of Singapore by G.D. Coleman (published in Calcutta in 1836 and in London in 1839), the area was also known as the "Tombs of the Malayan Princes". The map was the result of a survey conducted in 1829 by J. T. Thomson.
The Jalan Kubor Cemetery grounds are part of the royal town established in Kampong Gelam, the Kota Raja, which enjoyed water frontage (along what is Beach Road today) and included an encircling palisade and a number of tall gateways.
According to a Berita Harian article dated 25 September 1984, Sultan Ali Iskandar Shan (Sultan Hussein's son) opened the burial grounds to the public on 26 August 1848. The cemetery, with its close proximity to royal territory, made it a popular cemetery of choice for rich Malay merchants during the 1800s to early 1900s.
As mentioned earlier, part of the cemetery served as the royal burial ground and there are a number of graves belonging to members of the royal family within the aforementioned burial ground.

The Royal Mound containing the grave of Tengku Aisyah binte Tengku Alam (alias Tengku Aisyah Gedung binte Sultan Alam Shah bin Sultan Ali bin Sultan Hussein), great-granddaughter of Sultan Hussein, whose gravestones are inscribed in Arabic (headstone) and Jawi (footstone).
Within the cemetery, the Royal Mound is a major feature as it is the largest enclosure and encases a raised mound that may be a pre-existing eyot (or mound in a swampy or riverine environment) which was reinforced by walls.
The abovementioned mound contains graves of members from the royal family, including prominent Kampong Gelam political and social personalities such as Tengku Abdul Kadir bin Tengku Mohamad (JP), Tengku Aisyah Gedung binte Sultan Alam Syah, and Tengku Hj Hussain bin Tengku Hj Ali.
While the cemetery served as the official burial ground for the royal family, Sultan Hussein and Sultan Ali, the two Sultans of Singapore, were buried in Malacca. Members of the royal family who are buried within the cemetery include Tengku Hussain, a descendent of Sultan Ali.

(Left to right: A slab form in the Malay tradition with pointed shoulders, a geometric slab form, a slab form in the Ottoman (Turkish) tradition and a slab form in the Javanese tradition which is rarely found outside of Java.)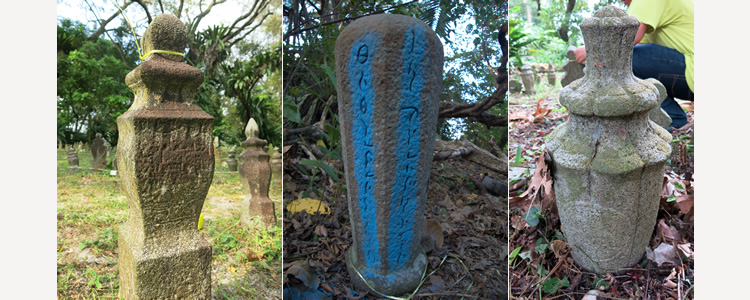 (Left to right: Less common gravestones which include a pillar form in the Malay tradition, a club form and a pillar form with a gourd profile.)
The cemetery contains various Malay, Javanese, Ottoman and unique cross-cultural gravestones with dapurs (elements which serve to demarcate the boundaries of a grave or built up to form a rectangular edifice) and a number of enclosures for singular graves and clusters of family burial plots.

(Left to right: A dapur with a built-up base, one of the largest dapurs for a single grave, and an enclosure for a cluster of family or extended family burial plot.)
The inscriptions on gravestones are either incised, embossed, inked or marble or lead-inlaid, and they are written in a variety of languages and scripts including Arabic, Malay, Javanese aksara, Bugis aksara, English, Mandarin and Gujarati.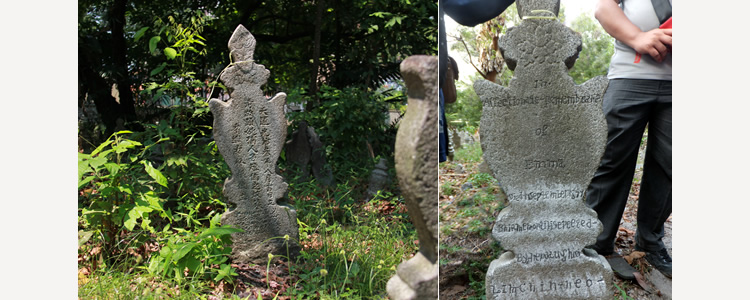 A unique gravestone with Chinese-Jawi text (footstone) and English text (headstone).
Besides the descendents of the two Sultans, the Jalan Kubor Cemetery served as a burial ground for residents of Kampong Gelam.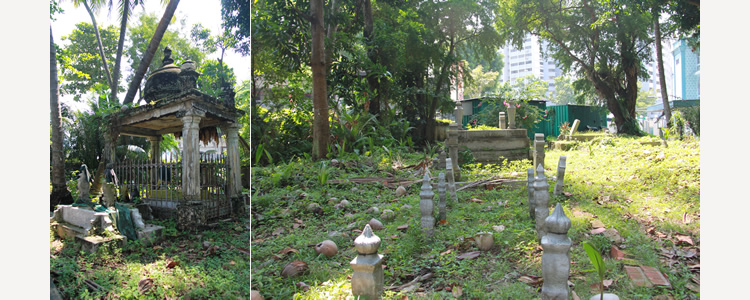 (Left: The grave of Bugis merchant, Haji Osman Ambok Dalek Daeng Pasandrek bin Haji Ali, which is located beneath a domed pavilion behind Malabar Mosque.)
The most notable non-royal person to be buried in the cemetery would be Haji Ambok Sooloh Bin Haji Omar – a successful Bugis businessman and an active figure in the Muslim community. His most important contribution was his involvement in setting up the Malay newspaper Utusan Melayu. He was also appointed the Justice of Peace when he was 36 and passed away in 1963.
Another prominent figure buried in the Jalan Kubor Cemetery was Syed Alwee bin Ali Aljunied. According to newspaper reports, his grandfather and father were respected early settlers in the Malay community. He was a Justice of Peace and a prominent member of the Mohamedan Advisory Board.
It is worthwhile to note that the cemetery is also the final resting place of numerous traders and individuals of diverse ethnicity from the old port towns of our region and beyond – including Riau, Palembang, Pontianak and Banjarmasin as well as Javanese and Bugis ports further afield.
According to a Straits Times report dated 2 September 1863, the British government appointed W. T. Carrington (then Municipal Engineer) to conduct a survey of the cemetery's capacity and the cemetery was closed, 8 years later, in 1875.
Despite its official closure in 1875, Jalan Kubor Cemetery continued to be used by the Muslims of the area as a burial ground through the 1920s up to the early 1960s. According to a Berita Harian report published on 27 October 1981, the last burial at Jalan Kubor Cemetery was likely to be the burial of Amboo Sooloh in 1963.
A project by National Heritage Board.
With inputs from Dr. Imran bin Tajudeen.