Guo Pei: Chinese Art and Couture opened ACM's Season of Chinese Art in 2019, and explored the best of the genre presented for a contemporary, international audience.
Introduction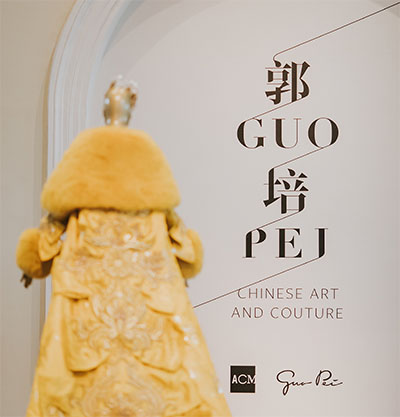 Guo Pei: Chinese Art and Couture presents a dialogue between historical and contemporary Chinese design, juxtaposing 29 embroidered masterworks by China's foremost couturière with 20 Chinese art masterpieces in the Asian Civilisations Museum's collection. Guo Pei's dramatic, sculptural gowns reflect influences from growing up in Beijing surrounded by Chinese imperial art and mythology. Her creations also express her personal take on contemporary fashion and aesthetics.
Exploring her impact on everyday lives beyond the runway, many of Guo Pei's intricate Chinese bridal gowns – including two directly inspired by artworks in the Asian Civilisations Museum's collection – will be displayed for the first time. Serving as points of encounter and departure, the Asian Civilisations Museum's objects invite contemplation on how Guo Pei references and reimagines Chinese aesthetics and tradition for China and the world today.
---
Watch: An Interview with Guo Pei
Gold is the Colour of My Soul
Couture: The Spirit of Dedication and Devotion
As part of their training, the embroiderers at Rose Studio improve their skills by studying and reimagining embroideries of old – like the thangka depicting the Buddha on a lotus (bottom left). Thangkas are embroidered textiles or paintings depicting Buddhist deities or scenes. The Buddha is depicted here in fine satin and stem stiches. Symbolising his enlightenment, he stands serenely on a lotus, rising above the turgid waters below. The laborious process required to produce such silk textiles produces merit for the makers, and those who donate money to make these for monasteries and temples.
Requiring 50,000 worker-hours to complete, Guo Pei regards this iconic masterpiece (bottom right) as a personal milestone. It symbolises her dedication and her desire to create the most beautiful dress possible without commercial considerations. Because of its technical mastery, it has been hailed as "the birth of haute couture in China, …a symbol of its time" by the China National Silk Museum in Hangzhou.
The stunning dress, made up of long, slim panels richly embroidered with designs of lotus and floral scrolls, radiates like the sun, corresponding to the theme of her first couture collection, Samsara (a concept of life cycles in some Asian religions). A key visual symbol of Buddhism in art, the lotus is associated with qualities like purity and harmony.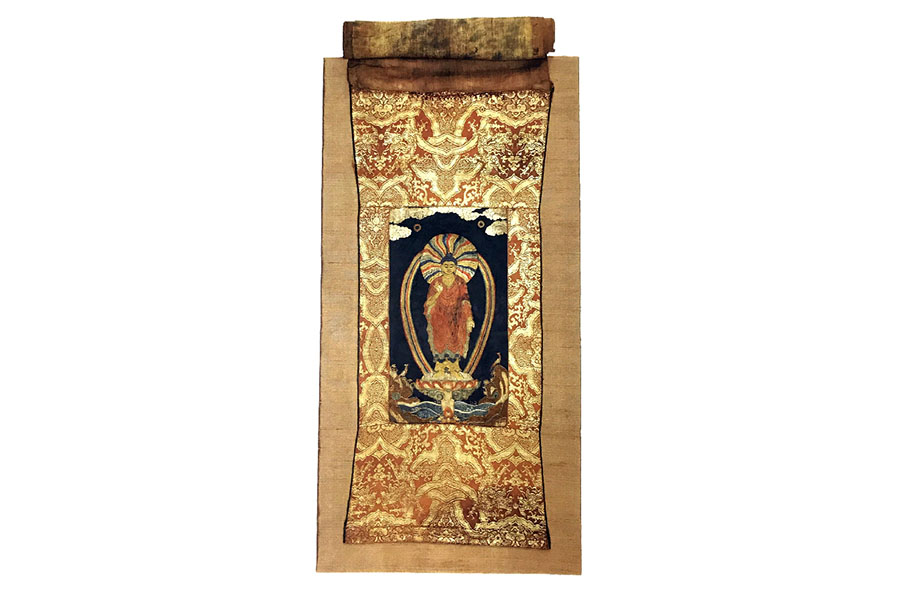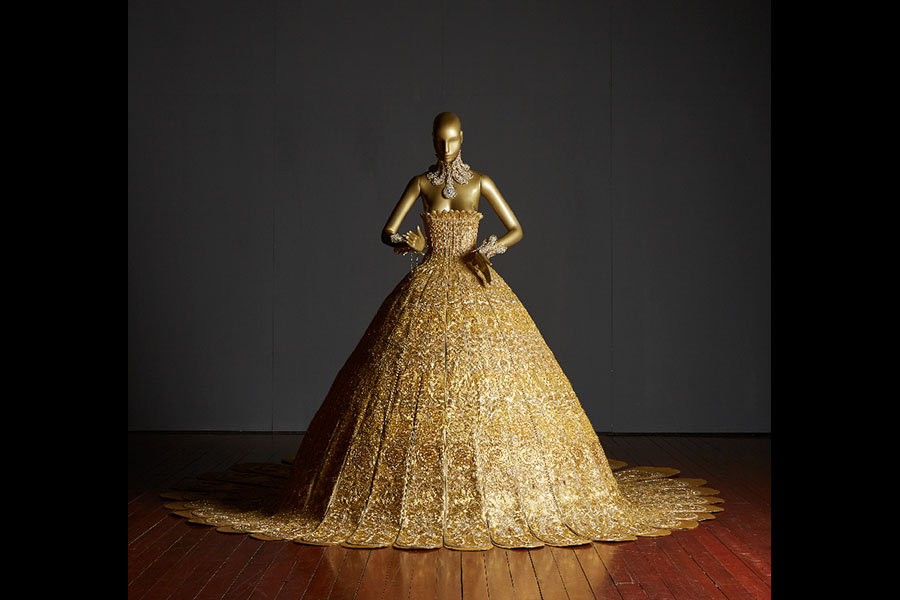 Reinventing Imperial Tradition
In Qing China, dress was governed by sumptuary laws that gave visual hierarchy and order to society. This style of robe is known as jifu (auspicious attire) and was reserved only for use by the emperor during ritual ceremonies and festive occasions like New Year's Day.
Symbols of absolute authority decorate the garment: the emperor is represented by nine dragons – considered supreme of all beasts – rising above and controlling the universe indicated by the swirling blue clouds (bottom left), waves, and mountains at the hem. Yellow is associated with earth, life, nourishment, and wearing this particularly bright shade (minghuang) was a privilege of the emperor, empress, and empress dowager.
Every Guo Pei collection since 2006 has featured striking yellow and gold creations. Her fondness for resplendent yellow, elaborate embroidery, and lavish silk reflects a love for designs, materials, and techniques associated with Chinese imperial art and style.
Guo Pei's splendid creations like this show her personal, joyous take on Qing Chinese imperial style. The sombre dragon robe has been reconceived into an informal, fun and frilly mini-dress with a long train. The dragons – key emblems of power – are replaced by the Chinese characters for happiness and good fortune. But strong parallels remain in its design: the choice of bright yellow; the symmetrical composition; the placement of key motifs on the front and shoulders; auspicious symbols rising above a geometric hem-border; and the naturalistic depiction of motifs.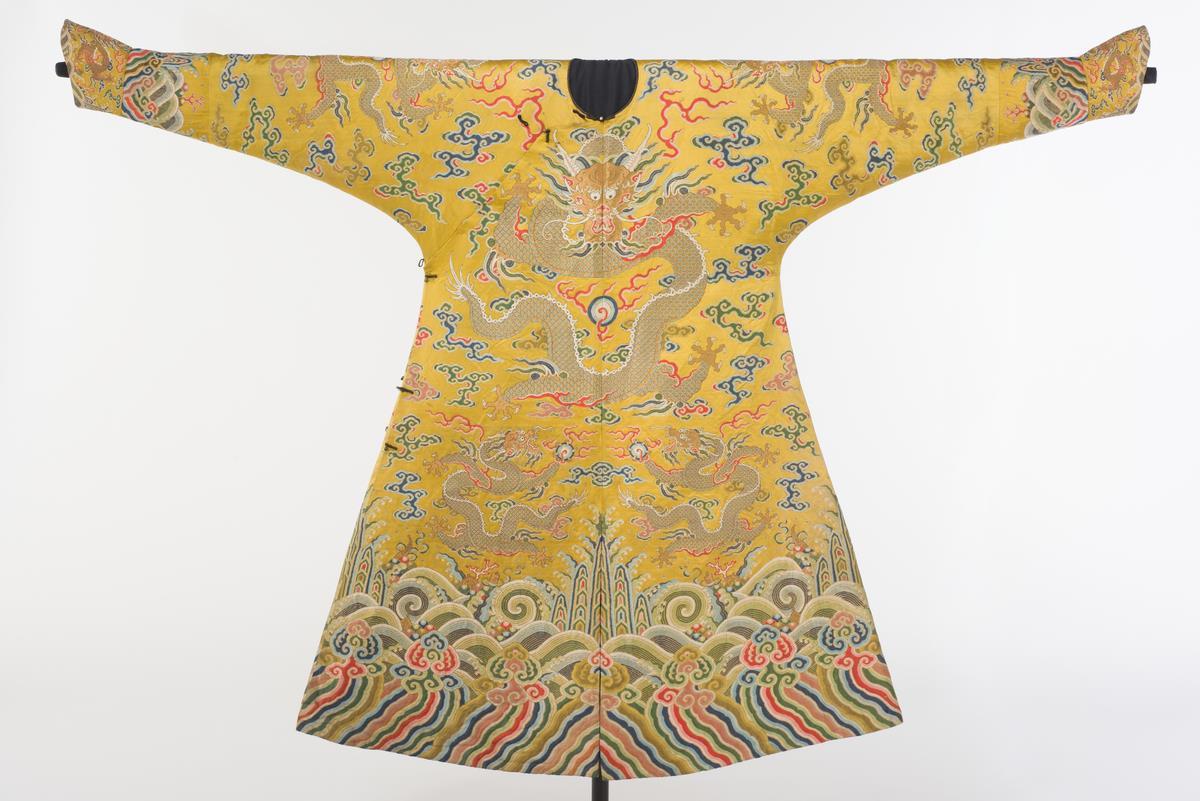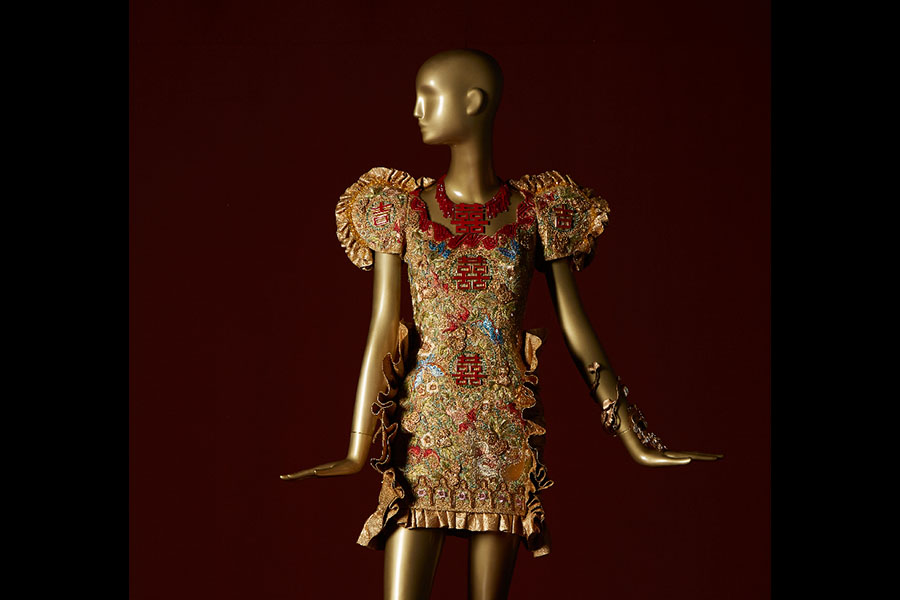 China and the World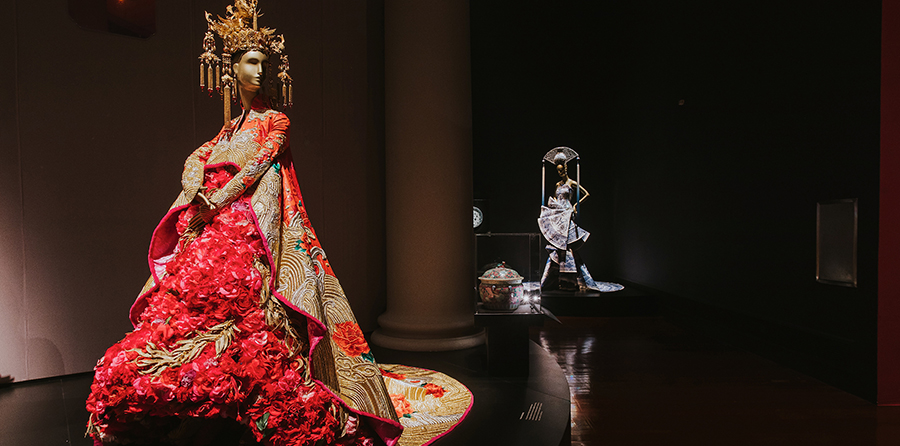 Sculpting Couture from Tradition
Guo Pei's magnificent artworks and historical Chinese export art share similarities in method of decoration, and also often feature hybrid designs. In particular, blue-and-white porcelain that were customised for different markets, was so popular that it developed into a visual symbol for all Chinese trade objects. For example, large dishes like this with rims of swirling, crested waves and intertwined flowers were exported to the Middle East for elite Islamic clients in the 15th century.
Blue-and-white porcelain has also deeply resonated with fashion designers in China and beyond.
One of Guo Pei's most renowned sculptural masterpieces, this blue-and-white gown was inspired by Chinese blue-and-white porcelain, in both design and technique. Like porcelain, the designs were hand-drawn and hand-painted. Skilfully draped to fan out, the fabric achieves a ceramic shard-like effect.
Similar to the museum dish in decoration, this gown depicts large single blooms of the lotus, surrounded by five borders of decoration that include crests, cloud and thunder (yunwen and leiwen) patterns (known as "key-fret" in the West), waves, lingzhi fungus, and flowers, 10,780 Swarovski crystals embellishments give a sparkling, finishing touch.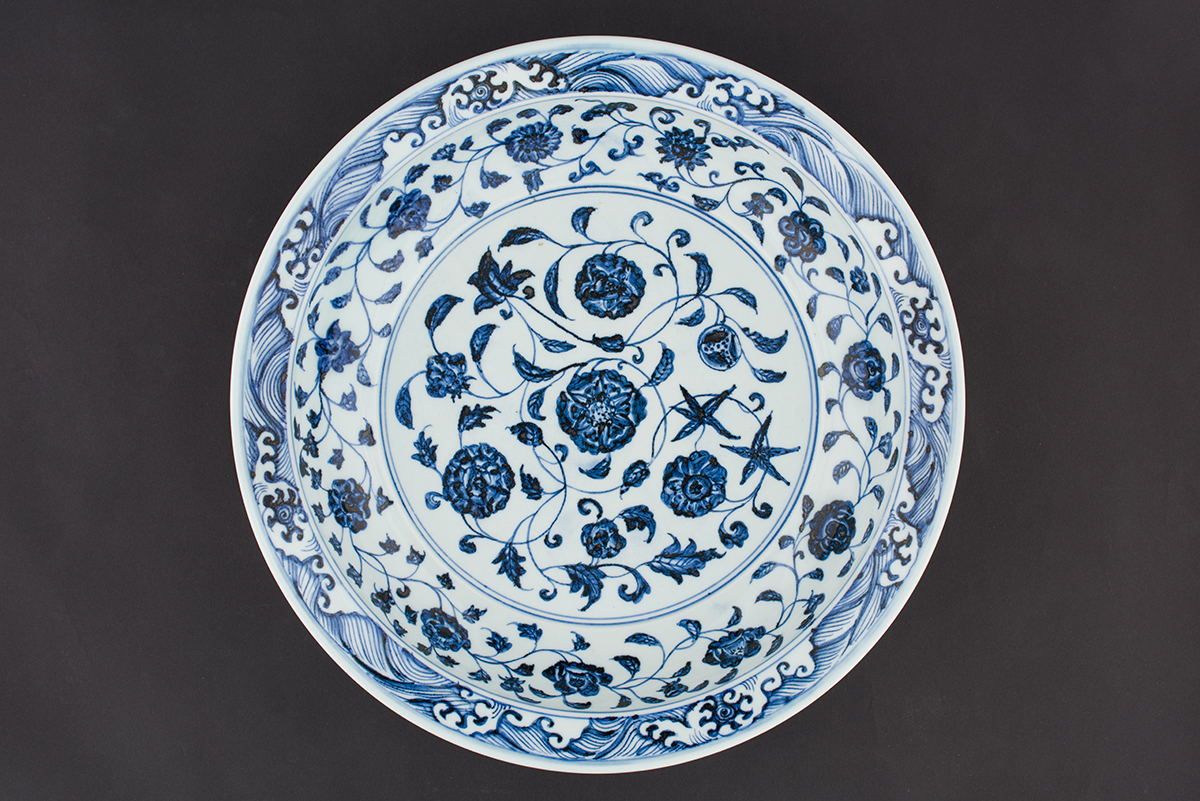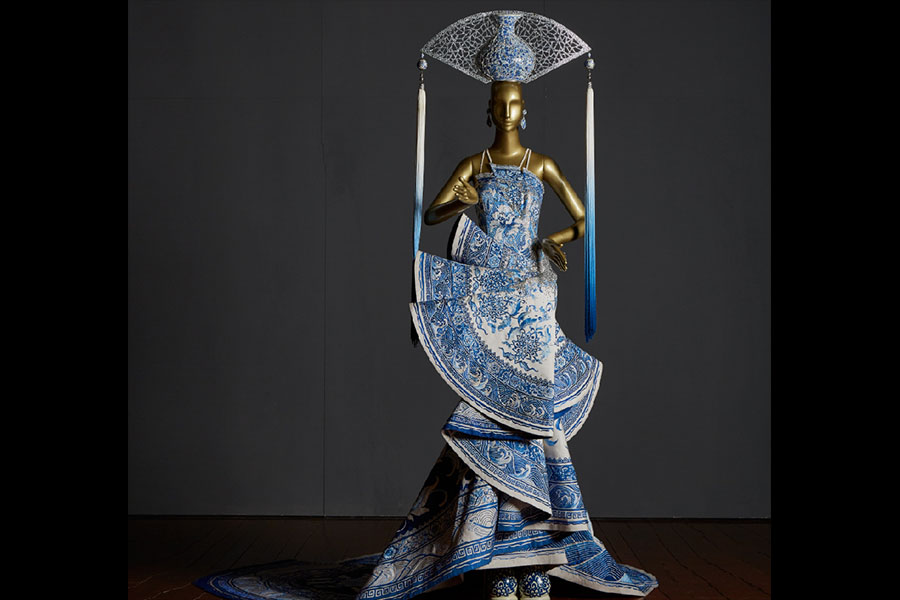 Treasured Heirlooms: Chinese Bridal Dress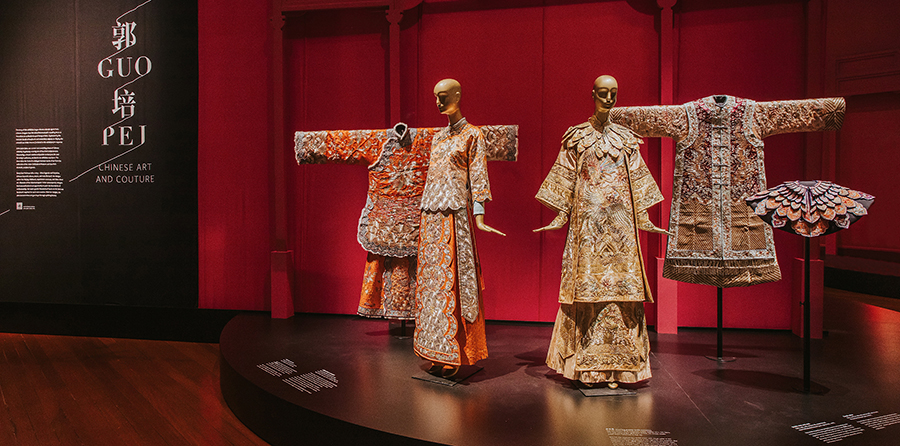 Empress for a Day
This bridal ensemble of a robe and vest, possibly worn by a Peranakan bride in Penang, inspired Guo Pei to make a golden version in response. This one is noteworthy for the unusual outer vest featuring a lively pair of five-clawed dragons. The vest (xiapei 霞帔) was culturally significant in the Ming and Qing periods for its reference to an elevated status of the bride as "empress of the day" on her wedding day.
"Traditional" bridal ensembles could also be creative in their time: A more common decoration for the vest was a mandarin badge, but designs made for the Chinese overseas often varied. Five-clawed dragons were restricted to the emperor and those close to him by sumptuary laws, but these rules were not tightly enforced during the late Qing period, especially not among the Chinese outside of China.
A cloud collar (yunjian), consisting of layers of segments resembling lingzhi fungus, lotus flower petals, and ornamental sceptres, was a striking feature of Chinese bridal ensembles worn by Peranakans.
This remarkable version features five layers of dense decoration that includes flowers, Buddhist symbols, and figures. Peranakans sometimes refer to these as a "phoenix collar", drawing parallels with the neck feathers of the mythical bird. Cloud collars were also thought to be symbolic, separating the realm of the material, the body, from the spiritual, the head.
Guo Pei's golden creation shows influences from two bridal ensembles in the museum's Peranakan collection: a cloud collar and a vest. She expanded the traditional vest (xiapei 霞帔) into an elaborate jacket, open at the front, revealing a pair of large, multicoloured courting phoenixes on the inner robe. A cloud collar, and loose banded sleeves – including the swastika, a Buddhist symbol for good fortune – was incorporated to complete the look. In general, Guo Pei's elegant bridal dresses show an appreciation of Chinese forms, techniques, and imagery.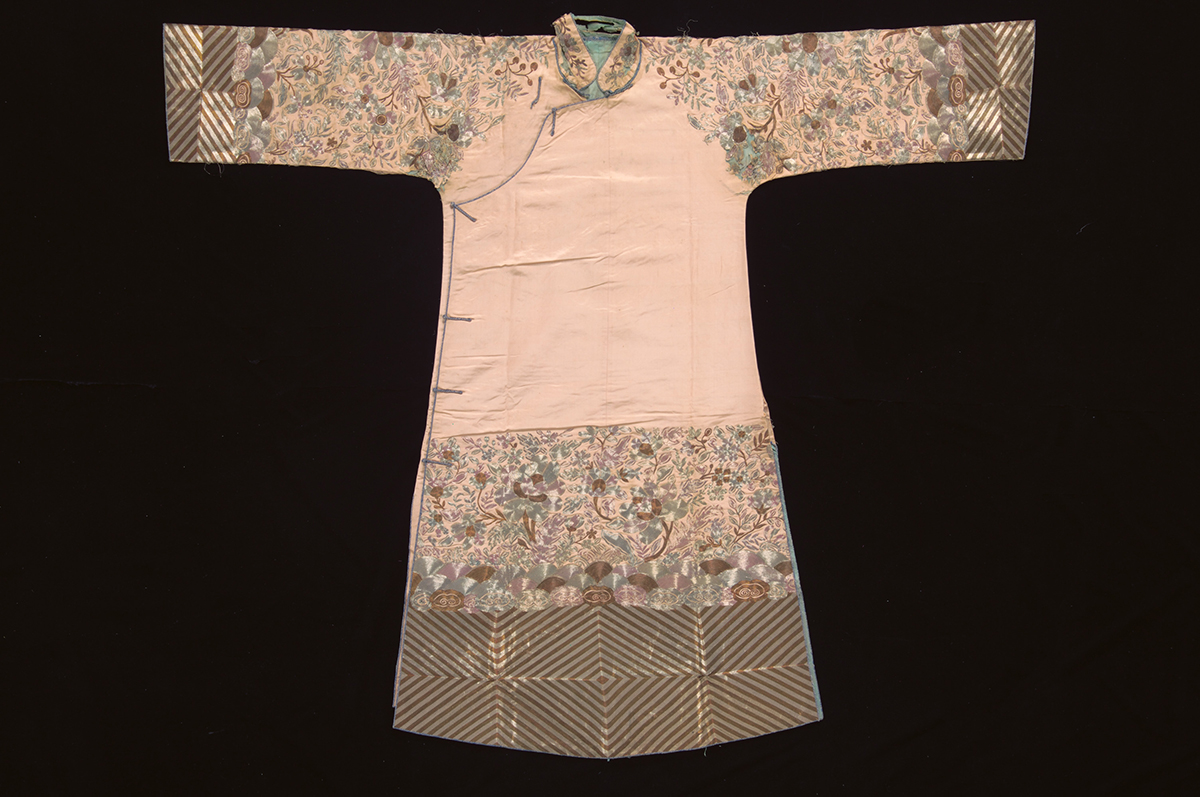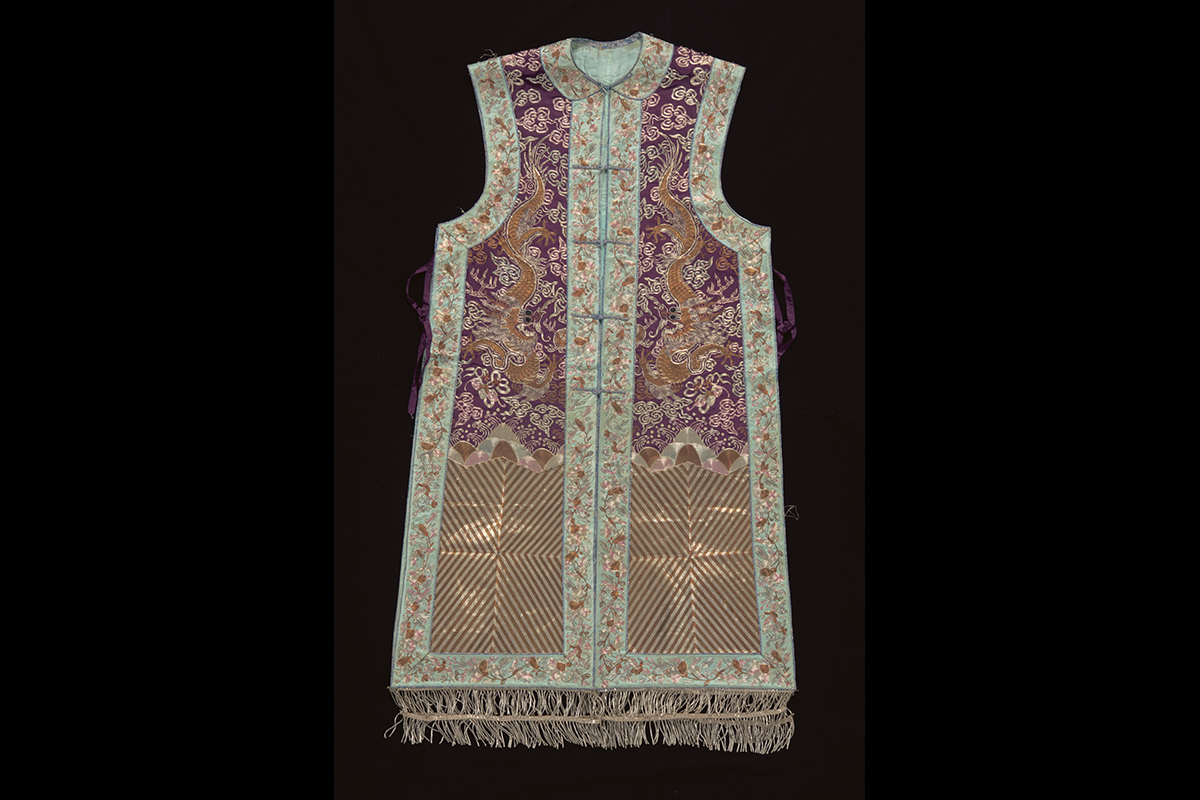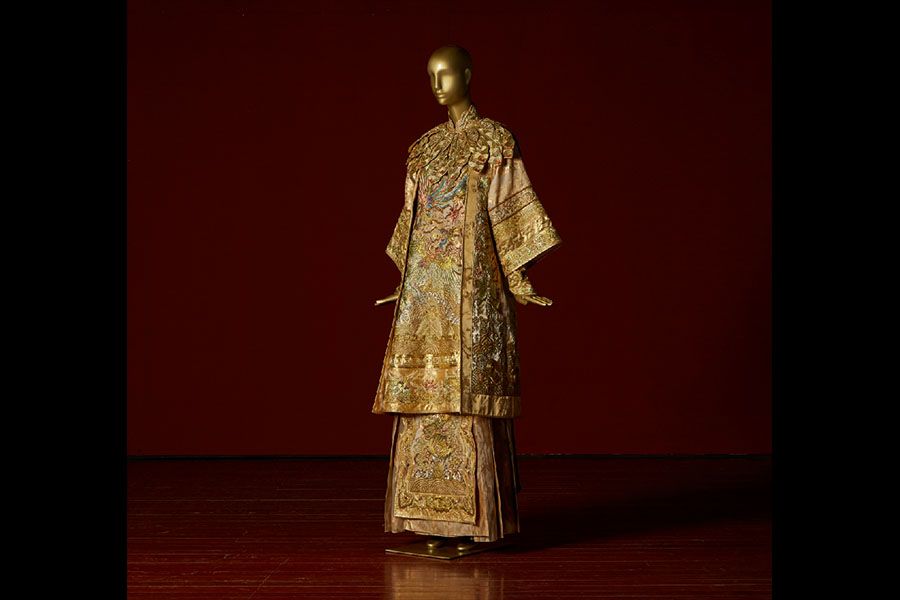 Fantastic Beasts and Auspicious Flowers
Singapore reminds Guo Pei of the mythical phoenix, with multicoloured feathers representing the different cultures of the country. The phoenix and peony were popular designs on porcelain made in China for the Peranakan Chinese in Singapore and Malaysia (called nyonyaware). Together, they complementarily connote royalty, wealth, rank, and honour.
Among the largest of nyonyaware, this kamcheng (covered jar) was used to serve festive food at celebrations.
Guo Pei's theatrical designs often blend Chinese imagery with Western silhouettes and three-dimensional tailoring. This billowy gown features elaborately embroidered phoenix tails, large peony blossoms, and grand waves dramatically swirling at the base of the cape.
Significantly, this dramatic creation represents Guo Pei's pursuit of the revival of traditional craft. Touched by silk peony accessories that she salvaged from the countryside, she directed her studio to craft and paint similar ones to adorn the billowy, full bodice of this dress.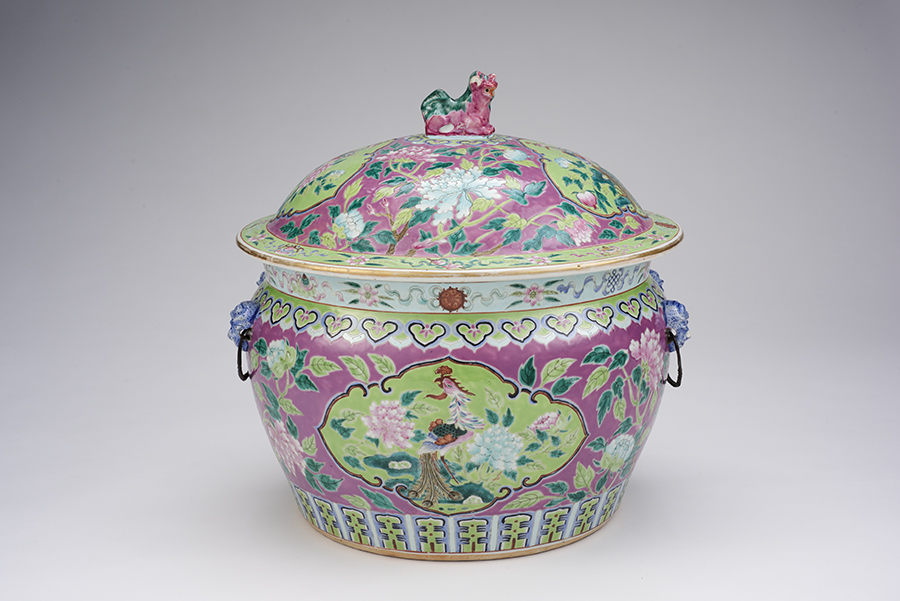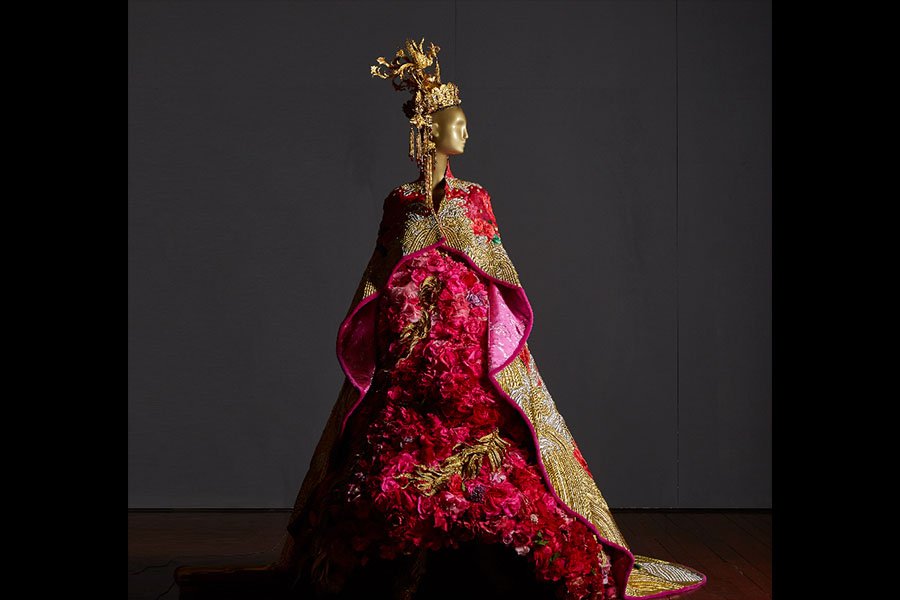 Peranakan Connections
It is estimated that 75 per cent of overseas Chinese reside in Southeast Asia. Many selectively continued Chinese traditions as they adopted and adapted local traditions to develop their own distinct preferences.
This bridal ensemble (bottom right), possibly exported from China, is of the type favoured by the Peranakan Chinese in Penang. A jacket with side opening paired with two pleated skirts was also popular in China in the early 20th century. The ensemble is decorated with auspicious Chinese symbols, primarily the lotus, signifying purity and peace, and goldfishes, referring to abundance.
Rabbit fur trimmings, symbolising the wish for the couple to be fertile, decorate the scalloped edges. The striking bright orange is affectionately called "Pinang orange" by Peranakan Chinese in Penang, referencing the colour of areca nut (pinang) used in betel chewing. Enjoying betel was a popular form of socialising and hospitality for the Peranakan Chinese in Singapore and Malaysia up till the 1940s.
While visiting the Peranakan Museum's traveling exhibition on Peranakan Chinese art in Paris in 2010, Guo Pei was so captivated by ACM's bridal jacket and skirt that she resolved to reinterpret it for a contemporary Chinese bride. Her version changes the tailoring, with a tighter silhouette and tapered sleeves, and combines the two skirts into one.
The central skirt panel is enlarged to feature more luxurious embroidery, and there are no skirt pleats or fur trimmings. Yet a strong resemblance remains in the colour palette of orange and green, use of elaborate gold embroidery, and respect for the core motifs of lotus and goldfishes and their auspicious meanings.
Celebrity actress Angelababy (Yang Yin) wore this elegant creation during her marriage ceremony to Huang Xiaoming, an event described as the "Chinese wedding of the Year" in 2015. Guo Pei felt the dress suited her warm personality. The direction of cultural influence is seldom linear – in this example, an early 20th-century Chinese bridal style exported to the overseas Chinese is given new life back in China by that country's leading couturier of today.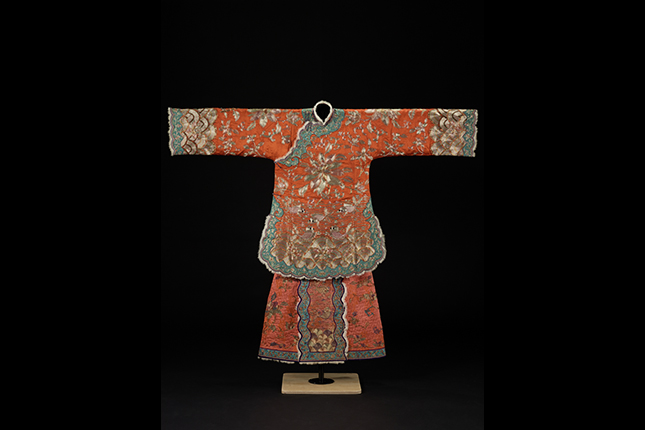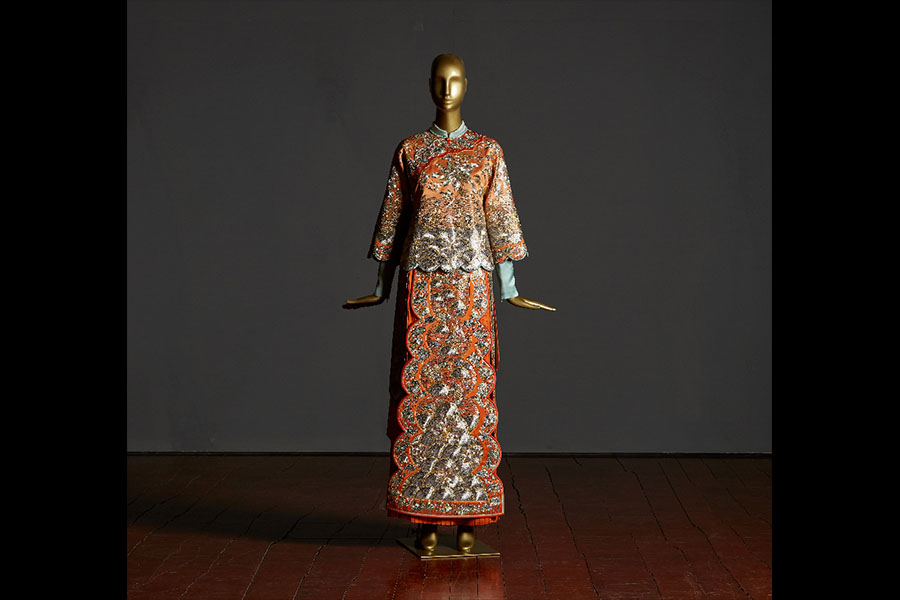 Conversations
This conversation delves deeper into how the exhibition came about, and explores – by way of highlighting key masterworks in the exhibition – broader themes of Chinese art history, the hybrid nature of Chinese art and identity, Chinese wedding culture, and the place of fashion and couture in museums today.
Join ACM curator Jackie Yoong and Raymond Wong of Rumah Kim Choo on Peranakan bead embroidery – an art that is becoming increasingly rare. See how the craft has also inspired artists, including international couturière Guo Pei.
Watch: Peranakan Bead Embroidery
Catalogue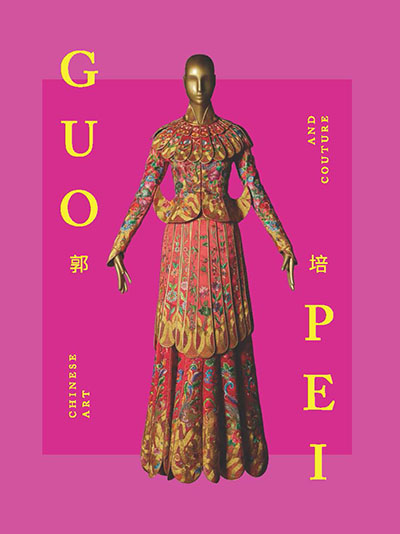 Jackie Yoong
ISBN: 978-981-14-1782-5
Paperback, 212pp.
Price: $65
Guo Pei: Chinese Art and Couture includes full-colour images of everything in the exhibition. Highlights are the gorgeous images and closeups of Guo Pei's dramatic, sculptural gowns made specially for this book by world-renowned Singaporean photographer Russel Wong. An essay by curator Jackie Yoong surveys Guo Pei's career so far. The exhibition and catalogue invite contemplation on how Guo Pei references and reimagines Chinese art and tradition for China and the world today.
---
The Making of Guo Pei: Chinese Art and Couture
Hear the remarkable genesis of the show, with exhibition curator Jackie Yoong.
Watch: An Interview with Jackie
Global Fine Art Awards – Best Design Exhibition
The success of Guo Pei: Chinese Art and Couture was recognised internationally, winning Best Design Exhibition at the Global Fine Art Awards. Other exhibitions nominated in the category included Christian Dior – Designer of Dreams by the Victoria and Albert Museum in London, Balenciaga and Spanish Painting by the Thyssen-Bornemisza National Museum in Madrid, and Dior: From Paris to the World, by Denver Art Museum and Dallas Museum of Art.
Held in New York, the Global Fine Art Awards is the first annual award to recognise the world's best curated art and design exhibitions – honouring innovation and excellence, historical context, educational value and public appeal. This sixth edition saw exhibitions nominated across six continents, 27 countries and 74 cities. Among them were The World Between Empires by The Metropolitan Museum of Art, New York (Winner of Best Ancient), Faith and Empire by The Rubin Museum of Art, New York (Winner of Best Renaissance, Baroque, Old Masters and Dynasties), and Oceania by Royal Academy of Arts London & Musée du quai Branly – Jacques Chirac Paris (Honourable Mention of Best Fringe/ Alternative Exhibition). ACM was the only Southeast Asian institution awarded for 2019.
ACM wishes to thank the Global Fine Art Awards for the recognition.
Watch: 6th Annual GFAA Awards l May 11, 2020
Following the blockbuster design showcase, ACM officially made a permanent home for fashion on its third floor, collectively themed Materials and Design. Launched on 4 April 2020, the Museum's new Fashion and Textiles and Jewellery permanent galleries complete ACM's multi-year refresh, illustrating the interconnectedness of Asian traditions, and the best of Asian style and craftsmanship. The Fashion and Textiles gallery is the only permanent space in Singapore dedicated to fashion.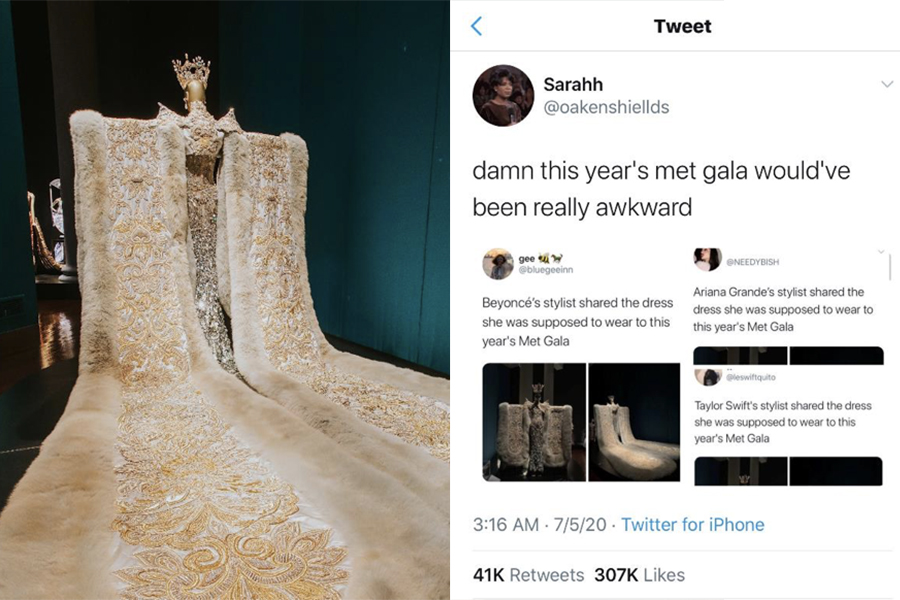 Learning Resource for Families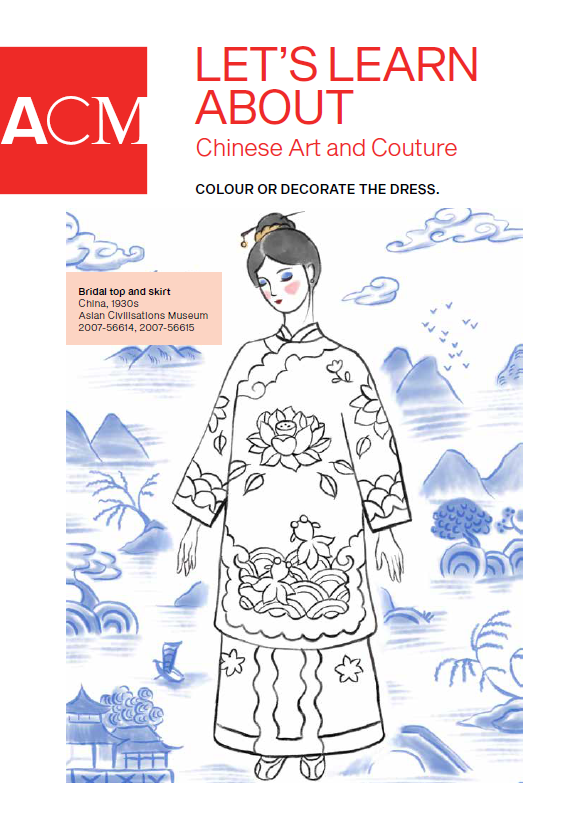 LET'S LEARN ABOUT... Chinese Art and Couture! Have a go at colouring, make an origami dress or a paper wristlet.
LET'S LEARN ABOUT… is a series of monthly online learning resources by ACM, perfect for children and grown-ups to enjoy together. Click on the image to head to ACM's webpage for activities related to Guo Pei: Chinese Art and Couture.
Acknowledgements
This exhibition was made possible through collaboration with Rose Studio, Beijing, and our many generous sponsors. Thanks to Guo Pei, Jack Cao, Phoebe Qiu, Rachel Lim-Pinoncely at Rose Studio, and Chris Hall for loan of the thangka.